Page 35 of 278
Advanced Computing, Mathematics and Data
Staff Awards & Honors
October 2017
Song Named IEEE Computer Society Early Career Honoree
The IEEE Computer Society recently announced its recipients of the 2017 Technical Consortium on High Performance Computing (TCHPC) Award for Excellence for Early Career Researchers in High Performance Computing. Shuaiwen Leon Song, a research scientist with PNNL's High Performance Computing group, was among those chosen for the honor. Song will receive his award during a special ceremony at this year's International Conference for High Performance Computing, Networking, Storage and Analysis, better known as SC17.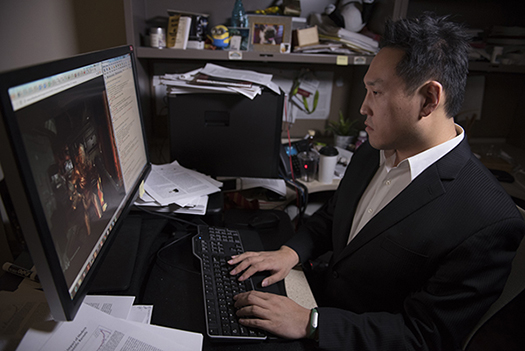 Hard at Work: Shuaiwen Leon Song
The TCHPC Award was created to recognize early-career researchers who already "have made outstanding, influential, and potentially long-lasting contributions" in the HPC field. Song has devoted much of his research to examining and enhancing advanced computing architectures, especially at the complicated intersection of hardware and software.
"Leon has an energy and enthusiasm behind his work that readily demonstrates his commitment to advancing computer science," noted Kevin Barker, deputy director of PNNL's HPC group. "His research continues to evolve and already has inspired some of the industry's most storied companies, as well as his colleagues. It is not surprising that IEEE Computer Society took notice. I am glad to see him among those honored with the TCHPC Award for their early career achievements."
In addition to receiving the IEEE TCHPC Award at the conference, Song and his collaborators, including Ang Li and Andres Marquez, also from PNNL's HPC group, as well as researchers from the University of Copenhagen and Virginia Tech, are finalists for the SC17 Best Paper award for "Exploring and Analyzing the Real Impact of Modern On-Package Memory on HPC Scientific Kernels." The work involved a comprehensive evaluation of major scientific kernels with varied representative inputs, including dense, sparse, and medium, on Intel's Broadwell and Knights Landing computing architectures. According to Song, their work analyzes the real impact of on-package memory, e.g., common 2.5- and 3-D memory, on essential scientific kernels from Berkeley Dwarfs and provides an analysis framework to guide application optimization.
Learn more about Song and this year's other IEEE TCHPC award winners in "IEEE-CS TCHPC 2017 Award Winners Announced, for Excellence for Early Career Researchers in High Performance Computing."

---
Page 35 of 278