Page 40 of 278
Advanced Computing, Mathematics and Data
Staff Awards & Honors
August 2017
HPC Duo Gets a Nod from Abroad
Recently, Ang Li and Shuaiwen Leon Song, both from Advanced Computing, Mathematics, and Data Division's High Performance Computing group, were recognized with a HiPEAC Paper Award by the European Network on High Performance and Embedded Architecture and Compilation (HiPEAC) for their work on "Locality-Aware CTA Clustering for Modern GPUs."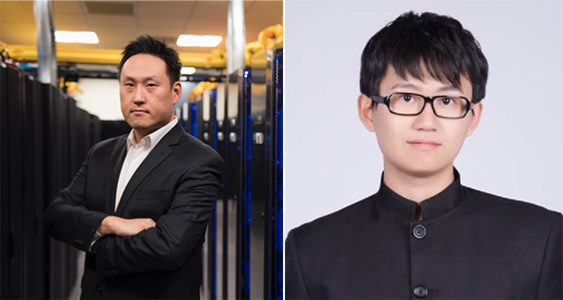 Shuaiwen Leon Song
(l) and Ang Li (r) wered honored by HiPEAC for their work on a novel clustering technique, the "CTA Clustering" framework, that automatically exploits inter-cooperative thread array locality for general applications.
Enlarge Image
.
Originally, their paper was presented at this year's ACM International Conference on Architectural Support for Programming Languages and Operating Systems, or ASPLOS (held in China), a leading computing conference that showcases "groundbreaking research at the intersection of at least two disciplines: architecture, programming languages, operating systems, and related areas."
Notably, "Locality-Aware CTA Clustering for Modern GPUs," which describes the concept, method, and design for an inter-cooperative thread array (CTA) clustering framework that automatically exploits inter-CTA locality for general applications, was the first paper led by a Department of Energy national laboratory—and the first-ever from PNNL—to be accepted by ASPLOS since its inception in 1982.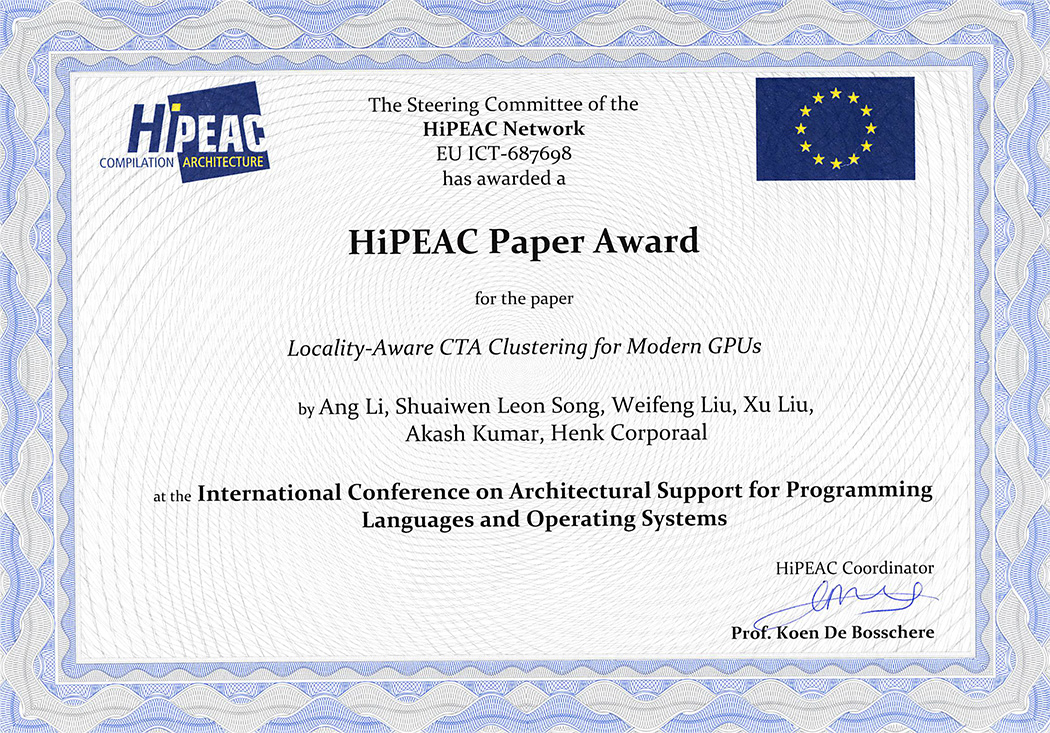 Enlarge Image
Li, who served as the lead author, and Song were joined in the effort by an international mix of colleagues from the College of William and Mary (Virginia), as well as Technische Universitat Dresden (Germany), University of Copenhagen (Denmark), and Eindhoven University of Technology (The Netherlands).
The HiPEAC award is part of the organization's mission "to steer and increase the European research in the area of high-performance and embedded computing systems." Explicitly, these awards are aimed to highlight HiPEAC members to "publish their work at conferences in which Europe is not strongly represented," including ASPLOS.
---
Page 40 of 278