Page 64 of 278
Advanced Computing, Mathematics and Data
Staff Awards & Honors
August 2016
Charting an 'Irregular' Evolution
Tumeo and Feo to edit special issue of 'Journal of Parallel and Distributed Computing'
Antonino Tumeo, of PNNL's Advanced Computing, Mathematics, and Data Division High Performance Computing group, and John Feo, the current co-director of the Northwest Institute for Advanced Computing, will serve as co-editors for a special issue of the Journal of Parallel and Distributed Computing, or JPDC. The "Special Issue on Systems for Learning, Inferencing, and Discovering (SLID)" will explore solutions for supporting efficient execution of irregular applications using new micro- and system-architecture features, as well as for networks, languages and libraries, runtimes, compilers, analyses, and algorithms.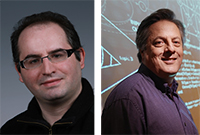 Antonino Tumeo (left) and John Feo (right).
Some of the papers featured in the JPDC special issue will initially be presented at the 2016 Sixth Workshop on Irregular Applications: Architectures and Algorithms, known as IA3, being held in conjunction with SC16 (the International Conference for High Performance Computing, Networking, Storage and Analysis) on Nov. 13, 2016 in Salt Lake City. Since 2011, both Tumeo and Feo have served as primary organizers of the IA3 workshop.
To encourage submissions, a Call for Papers has been issued. Papers examining theoretical and practical topics are of interest, and unpublished and previously published (yet significantly expanded) research will be considered. Additional details regarding submissions, deadlines, and potential topics are included with the JPDC Call for Papers.
Paper submissions for JPDC will be accepted through Friday, March 31, 2017. All manuscripts should be submitted through the Elsevier Editorial System. The special issue likely will be published in late 2017.
"The field of irregular applications has significantly evolved in the last few years," Tumeo explained. "We have moved from very specific, ad hoc solutions in the hardware, software, and algorithms to solve certain irregular behaviors, for example, unpredictable data or network accesses, load unbalancing, fine-grained communication, toward more complete, end-to-end systems, targeted at the efficient execution of specific applications that may exhibit irregular behaviors. Much of this evolution has been certainly driven by the increased focus on data analytics, and we have been direct witnesses of this evolution with our IA3 and previous special issues on the topic.
"We believe that we are now moving in a new era for irregular applications research," he continued. "We are experiencing the appearance of workloads that mix both regular and irregular behaviors, such as attributed graphs and linear algebra solvers dealing with dense and sparse matrices. The emergence of new fields—including machine learning; mixing large datasets with irregular data structures for training; new requirements, such as streaming datasets and the necessity to track changes in time; and new technologies, such as networks optimized for fine-grained communication, stacked memory, very dense non-volatile memories, neuromorphic processors, and quantum computing—are going to shake up the landscape of irregular applications. With this new JPDC special issue, we will survey recent progress and collect potential new breakthroughs in these emerging areas."
In addition to this upcoming special issue of JPDC, Tumeo and Feo have partnered as co-editors of several other irregular-applications-focused journals, including a 2015 issue of JPDC:
Journal of Parallel and Distributed Computing. 2015. "Special Issue on Architecture and Algorithms for Irregular Applications," eds. A Tumeo, J Feo, O Villa, S Secchi, and TG Mattson, vol. 76, pp. 1-154.
Computer. 2015. "Irregular Applications," eds. A Tumeo and J Feo, vol. 48, issue 8.
Meanwhile, a special edition of Parallel Computing devoted to "Theory and Practice of Irregular Applications (TaPIA)" and also co-edited by Tumeo and Feo is slated for publication in September 2016.
For more information regarding submission guidelines or topics related to the upcoming "Special Issue on Systems for Learning, Inferencing, and Discovering," contact Antonino Tumeo or John Feo.
Related:
---
Page 64 of 278