Page 79 of 278
Advanced Computing, Mathematics and Data
Staff Awards & Honors
December 2015
Expanding 'Computing Frontiers'
PNNL scientists lead the search for computing breakthroughs as part of ACM conference
Antonino Tumeo, a senior research scientist with PNNL's High Performance Computing group (Advanced Computing, Mathematics, and Data Division), and John Feo, co-director of the Northwest Institute for Advanced Computing, currently are part of the leadership team charged with organizing the upcoming Association for Computing Machinery International Conference on Computing Frontiers 2016. Tumeo, who is a program co-chair, and Feo, a general co-chair, are focused on promoting the conference's purpose to identify revolutionary materials, devices, and systems that challenge the current state of the art in computing and to encourage broader collaborations between researchers. The ACM International Conference on Computing Frontiers 2016 will be held on May 16-18, 2016 in Como, Italy.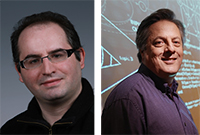 Antonino Tumeo (left) and John Feo (right) are both co-chairs of the ACM International Conference on Computing Frontiers 2016.
"Computing technologies always require new breakthroughs to adapt to the ever-changing requirements of society and science," Tumeo said. "This conference actively seeks computing topics—for example, new computational paradigms, algorithms, architectures, and memory or operating systems—that push the boundaries of traditional research realms. The conference is an opportunity to give voice to these innovations and see how they can influence emerging technologies that evolve into the next computing frontiers."
In anticipation of Computing Frontiers 2016, a Call for Papers has been issued. Authors are invited to submit full papers, position papers, trend papers, and poster abstracts via the conference paper submission site (https://easychair.org/conferences/?conf=cf16). More news and information regarding topics of interest, as well as event logistics, are available on the conference website. All accepted proceedings papers will be published in the ACM Digital Library, while the best papers from the conference will be included in a special issue of either the International Journal of Parallel Programming or Parallel Computing.
Conference paper submissions will be accepted through Friday, January 15, 2016.
For more information about the ACM International Conference on Computing Frontiers 2016, contact Antonino Tumeo or John Feo.
---
Page 79 of 278