Page 108 of 278
Advanced Computing, Mathematics and Data
Staff Awards & Honors
February 2015
Kleese van Dam to Present Keynote at Upcoming Data Science Innovation Summit
As part of the two-day Data Science Innovation Summit in February, which will emphasize "Creating a Successful Data-Driven Culture," Kerstin Kleese van Dam, the Data Services Team Lead within PNNL's Advanced Computing, Mathematics, and Data Division, will present a keynote: "How to Use Streaming Data for Real-time Decision Making." Her noontime presentation will be part of the event's Day One Data Science Innovation session.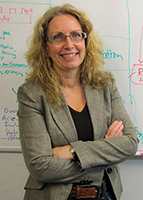 Scientist Kerstin Kleese van Dam is a keynote speaker at the Data Science Innovation Summit in San Diego.
Kleese van Dam will be among the summit's 64 speakers, tackling topics related to advancing the role of data science in their respective business and research enterprises during three concurrent sessions: Data Science Innovation, Hadoop Innovation, and Predictive Analytics Innovation. The Data Science Innovation Summit unites thought leaders from industry, including corporate entities such as Google, Netflix, Electronic Arts, General Electric, TD Bank, Toyota, and Walmart, as well as academic and government agencies, for interactive sessions and case studies. The goal is to showcase how and why organizations are using Big Data and data analytics and the benefits of creating a data-driven culture.
Kleese van Dam has long specialized in comprehensive data integration, working toward providing online visibility to data that allows scientists to correlate and integrate their research. She remains busy with diverse data management research projects, including real-time and co-analysis for PNNL's Chemical Imaging Initiative, Accelerated Climate Modeling for Energy (ACME), and Belle II. She also serves as the Infrastructure Lead of PNNL's Analysis in Motion initiative.
The Data Science Innovation Summit, hosted by The Innovation Enterprise Ltd., with sponsorships from various data technologies companies and media partners, will be held February 12-13, 2015 in San Diego, California.
---
Page 108 of 278