Page 110 of 278
Advanced Computing, Mathematics and Data
Staff Awards & Honors
January 2015
Addressing Research Priorities at the Big Data Strategic Initiative Workshop
Kleese van Dam part of group steering federal Big Data development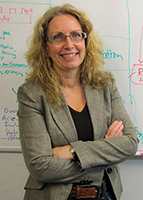 Kerstin Kleese van Dam will share her expertise in managing Big Data acquisition and analysis during the BDSI-2015 workshop.
Kerstin Kleese van Dam, the Data Services Team Lead within PNNL's Advanced Computing, Mathematics, and Data Division, will attend the 2015 Federal Big Data Strategic Initiative Workshop, or BDSI-2015, being held at Georgetown University in Washington D.C., on Friday, January 23, 2015. Kleese van Dam will be part of the small number of invited academic and industry partners on hand to address ways to manage and use Big Data, as well as to establish a set of priorities for a Federal Big Data Research Agenda.
Organized in part by the Networking and Information Technology Research and Development (NITRD) Program, which oversees the Big Data Senior Steering Group charged with drafting a framework for the Federal Big Data Research Agenda, the one-day BDSI-2015 workshop will unite researchers working on Big Data challenges and leading-edge technologies to provide their expertise, perspective, and vision. The overall goal is to provide viable guidelines and priorities for federal agencies as they seek to develop and expand their respective Big Data research initiatives.
NITRD provides a framework for federal agencies, including the U.S. Department of Energy, U.S. Department of Defense, National Institutes of Health, National Science Foundation, National Security Agency, and Environmental Protection Agency, among many others, to coordinate their networking and information technology research and development efforts and resources.
Kleese van Dam has long specialized in comprehensive data integration, working toward providing online visibility to data that allows scientists to correlate and integrate their research. At PNNL, she also serves as the Infrastructure Lead of the Analysis in Motion, or AIM, initiative, which focuses on building analysis methods aimed at continuous, automated synthesis of new knowledge and dynamic control of measurement systems. AIM also is sponsoring Kleese van Dam's participation in BDSI-2015.
---
Page 110 of 278