Page 114 of 278
Advanced Computing, Mathematics and Data
Staff Awards & Honors
October 2014
A High-Tech Team
John Feo and Antonino Tumeo re-team as co-editors for 'Computer' special issue
Dr. John Feo and Dr. Antonino Tumeo, from PNNL's Advanced Computing, Mathematics, and Data Division, will serve as guest editors for a special issue of Computer focused on "Irregular Applications" to be published in August 2015. A noted peer-reviewed publication in the field, Computer is the IEEE Computer Society's flagship magazine that covers all aspects of computer science and engineering. The "Irregular Applications" issue will center on exploring solutions for supporting the efficient design, development, and execution of irregular applications.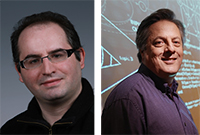 Antonino Tumeo (left) and John Feo (right).

"Many established and emerging computing fields, from social network analysis and bioinformatics to semantic graph databases and computer security, present irregular behaviors," Tumeo said. "However, current high-performance architectures do not cope well with the computational and data requirements of irregular applications. It is, thus, critical to understand how these applications impact current supercomputing systems and how next-generation systems should be designed to better support them."
He added: "This special issue of Computer is another step toward addressing the many system-related issues posed by irregular applications, providing an important base to improve computing as a whole for solving present and future data-intensive scientific challenges."
In anticipation of the Computer special issue, a Call for Papers has been issued that is accessible via the Computing Now website at: http://www.computer.org/portal/web/computingnow/cocfp8. Topics of both theoretical and practical significance will be featured with special attention on approaches that span multiple levels of the stack, ideally providing application-specific, end-to-end solutions. The submission deadline for papers is Sunday, February 01, 2015.
A list of potential paper topics also is included on the "Irregular Applications" call site. Of note, only technical articles that describe previously unpublished, original, state-of-the-art research not currently under review by a conference or another journal will be considered.
This marks the second time that Feo and Tumeo have partnered as co-editors for a special publication related to this topic. Earlier this year, they paired as co-editors of a special issue of the Journal of Parallel and Distributed Computing devoted to "Architectures and Algorithms for Irregular Applications." The special issue is tentatively scheduled to be published in March 2015.
For more information regarding submission guidelines or topics, contact Antonino Tumeo or John Feo.
---
Page 114 of 278