Page 125 of 278
Advanced Computing, Mathematics and Data
Staff Awards & Honors
July 2014
Jay Xu Named to International Journal of Computational Mathematics Editorial Board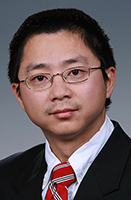 Dr. Jay Xu
This year, Zhijie "Jay" Xu was named an editorial board member of the International Journal of Computational Mathematics, a peer-reviewed, open-access journal that publishes original research and review articles spanning all areas of computational mathematics. He joins a 25-person international board with diverse mathematics-based expertise and is the sole representative from a U.S. Department of Energy national laboratory.
Currently, Jay is part of PNNL's Multiscale Mathematics team (Advanced Computing, Mathematics, and Data Division), where he focuses on research related to computational geomechanics, nanomechanics, and fluid mechanics; computational and multiscale modeling and simulation methods; computational materials; and high-performance computing. Jay is a member of several professional societies, including the Institute of Physics, American Physical Society, Materials Research Society, and American Geophysical Union, as well as a Senior Member of the Institute of Electrical and Electronics Engineers, the highest grade for IEEE members. He has published more than 50 articles in various peer-reviewed journals.
Before joining PNNL in 2010, Jay was a staff member at Idaho National Laboratory, where he worked primarily with modeling and simulation for subsurface multiphysical processes, including flow, reactive transport, and geomechanics. He earned his Ph.D. in mechanical engineering from Rensselaer Polytechnic Institute (New York) in 2006.
---
Page 125 of 278