Page 126 of 278
Advanced Computing, Mathematics and Data
Staff Awards & Honors
July 2014
Kleese van Dam to Discuss Computing Infrastructure Deployment at SMC2014
Invited to address infrastructure for big data, analytics and scalable applications session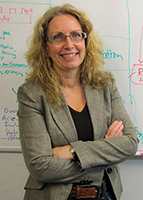 Kerstin Kleese van Dam will share her expertise in data acquisition, analysis, and exploitation methods at SMC2014.
Kerstin Kleese van Dam, a senior researcher in Pacific Northwest National Laboratory's Data Sciences group (Advanced Computing, Mathematics, and Data Division), recently was invited to speak at the upcoming 2014 Smoky Mountains Computational Sciences and Engineering Conference, or SMC2014, where she will address a session devoted to "Math and Computer Science Challenges for Big Data, Analytics, and Scalable Applications." The invitation-only conference, to be held September 2-4, 2014 in Gatlinburg, Tennessee, is being hosted by Oak Ridge National Laboratory's Computing and Computational Sciences Directorate.
Kleese van Dam's expertise in tackling challenges facing deployments of high-performance computing infrastructure for big data, analytics, and scalable applications has been deemed especially valuable to the conference participants. Her talk will be featured on final day of the event, which will include additional session presentations from Lori Diachin, Center for Applied Scientific Computing Director at Lawrence Livermore National Laboratory; Kenji Ono, Advanced Visualization Research Team Lead at RIKEN (Japan); and Simon Billinge, a senior scientist at Brookhaven National Laboratory and Professor of Materials Science and Engineering and Applied Physics and Applied Mathematics at Columbia University.
In addition to the big data, analytics, and scalable applications session, SMC2014 will feature sessions organized around "Strategic Science: Drivers of Future Innovation," "Deployed Ecosystems and Roadmaps for the Future," and "Future Architectures for Science."
This year, SMC2014's primary theme is "Integration of Computing and Data into Instruments of Science and Engineering." Conference invitees represent national laboratories, academia, government, and private industry and are experts in computer architectures, languages, algorithms, and operations. The overall goal is to use the conference to generate collaborations and leadership relevant to research involving high-priority computational science applications.
---
Page 126 of 278