Page 278 of 278
Advanced Computing, Mathematics and Data
Staff Awards & Honors
August 2007
Moe Khaleel Elected ASME Fellow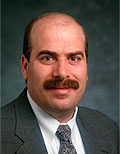 Moe Khaleel
Division Director
Congratulations to Dr. Mohammad Khaleel, who was elected a Fellow of the ASME. A Laboratory Fellow in Pacific Northwest National Laboratory's Fundamental & Computational Sciences Directorate, Khaleel was recognized for his exceptional engineering achievements and contributions to the engineering profession.
Khaleel has held numerous engineering leadership roles, including managing PNNL's hydrogen and transportation programs and the advanced manufacturing product line. He also serves as the national coordinator for modeling activities associated with solid oxide fuel cells for the Solid Energy Conversion Alliance - SECA - program, and is a member of the Industry Advisory Board of Edison Welding Institute. He currently manages the Computational Sciences & Mathematics Division.
Khaleel has published more than 100 technical articles and won the Federal Laboratory Consortium for Excellence in Technology Transfer of superplastic forming of aluminum and the ASME International McGrattan Literature Award.
Again, congratulations, Moe.
---
Page 278 of 278