Page 275 of 278
Advanced Computing, Mathematics and Data
Staff Awards & Honors
September 2007
Moe Khaleel Receives Lifetime Achievement Award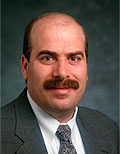 Moe Khaleel
Division Director
PNNL's Moe Khaleel received a lifetime achievement award for his contributions to computational engineering and fuel cell technologies at the 2007 International Joint Conference on Knowledge Management for Composite Materials (KMCM), Nanosciences and Fuel Cells. Khaleel also delivered the plenary talk on computational electro chemistry for fuel cells at the conference.
The KMCM's audience comprises researchers from R&D organizations, academia, government, policy makers and industry. The conference's theme focused on driving research activities towards Nanoscale phenomena and fuel cell development.
Khaleel is Director of PNNL's Computational Sciences and Mathematics Division and a PNNL Fellow. The CSM division provides scientific and technological solutions through the integration of high performance computing, data intensive computing, computational sciences, mathematics, scalable data management, and bioinformatics to advance the laboratory's mission areas. Khaleel's current research interests are tuned to world energy systems and the future role for fuel cell systems.
---
Page 275 of 278