Page 144 of 278
Advanced Computing, Mathematics and Data
Newsmakers
January 2014
Kleese Van Dam Quoted in Genetic Engineering & Biotechnology News
In the January 2014 issue of Genetic Engineering & Biotechnology News, PNNL's Kerstin Kleese van Dam, an associate division director in CSMD and Technical Lead of the Scientific Data Management Group, is featured as part of an article highlighting the upcoming Big Data and Analytics in Life Sciences Forum, hosted by the International Quality & Productivity Center in Boston on January 27-28, 2014.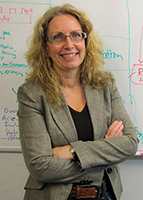 Kerstin Kleese van Dam discusses big data.
In the article, "Big Data Expected to Impact Pharma R&D," which also examined how to manage, and benefit from, the vast amounts of data affecting pharmaceutical development, Kleese van Dam is quoted describing the work of the Chemical Imaging, Future Power Grid and Analysis in Motion initiatives at PNNL in creating tools that address this confluence of volume, rate and heterogeneity of informatics data. Notably, she explained the role of three data paradigms that PNNL uses to simultaneously organize and interpret data throughout the research process: always on analysis, analysis in motion and analytics at the edge.
Kleese van Dam will present "Case Study: Advances in Predictive Analytics" at the Big Data and Analytics in Life Sciences Forum on Tuesday, January 28 at 1:30 PM.
---
Page 144 of 278