Page 146 of 278
Advanced Computing, Mathematics and Data
Staff Awards & Honors
December 2013
Chavarría-Miranda Named New ACM Senior Member
This fall, Dr. Daniel Chavarría-Miranda was named an Association for Computing Machinery Senior Member. The ACM uses this designation to recognize its members for their exceptional performance that "sets them apart from their peers."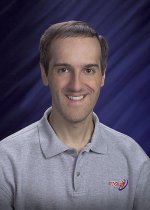 Daniel Chavarría-Miranda.
Currently, Daniel is a Senior Research Scientist in CSMD's High Performance Computing group, where his research interests span parallel and distributed systems, compilers for high-performance and parallel computing, programming languages and interactions of architectural features with software systems. At PNNL, Daniel has been a key member of projects within the DOE's Office of Advanced Scientific Computing Research, as well as Department of Defense-backed programs. He also has served as both a Principal Investigator and a project collaborator on several PNNL-funded Laboratory Directed Research and Development projects involving systems applications and software codes.
In November 2013, Daniel served as chair and co-organizer of the 3rd International Workshop on HPC, Networking and Analytics for the Power Grid (HiPCNA-PG'13) held as part of SC13 in Denver.
Before joining PNNL in 2005, Daniel participated in designing and developing key portions of Rice University's dHPF research compiler, where he also earned both his M.S. and Ph.D. in computer science.
---
Page 146 of 278