Page 195 of 559
Biological Sciences
Research Highlights
December 2013
Eliminating a "Superbug"
PNNL proteomics part of groundbreaking paper in Nature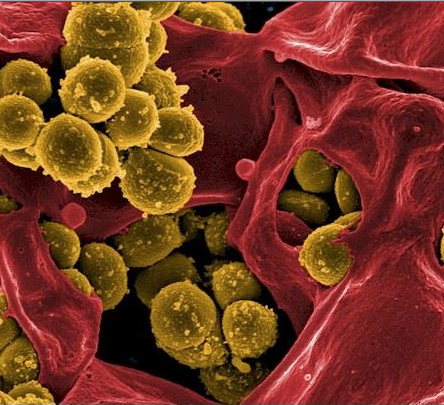 Scanning electron micrograph of methicillin-resistant
Staphylococcus aureus
and human white blood cells. Image credit: NIAID
Enlarge Image
.
Antibiotics are designed to stamp out the microbes that make us sick, but their overuse has resulted in drug-resistant bacteria. These "superbugs" have modified their behavior to defy even the best medical efforts and are a growing public health concern. Recently published in the journal Nature, a paper by researchers from Northeastern University, Pacific Northwest National Laboratory, and Arietis Biotechnology describes how these superbugs could be prompted to self-destruct.
PNNL scientists Dr. Joshua Adkins, Dr. Ernesto Nakayasu, and Dr. Richard (Dick) Smith contributed to the proteomic analysis and measurements. The research was featured in National Geographic, Science News, and The Scientist, among other media. Read more in the news release from Northeastern University.
Acknowledgments:
Sponsors: This work was supported by the National Institutes of Health award T-RO1 AI085585 and the National Institute of Allergy and Infectious Diseases award IAID IAA Y1-AI-8401. Proteomic analysis was performed using EMSL, a national scientific user facility sponsored by the Department of Energy's Office of Biological and Environmental Research and located at PNNL.
User Facility: EMSL
Research Team: Brian Conlon, Kim Lewis, Laura Fleck, Vincent Isabella, and Steve Leonard, Northeastern University; Michael LaFleur and Kenneth Coleman, Arietis Corporation; and Richard D. Smith, Joshua Adkins, and Ernesto Nakayasu, PNNL.
Research Area: Biological Systems Science
Reference: Conlon BP, ES Nakayasu, LE Fleck, MD LaFleur, VM Isabella, K Coleman, SN Leonard, RD Smith, JN Adkins, and K Lewis. 2013. "Activated ClpP Kills Persisters and Eradicates a Chronic Biofilm Infection." Nature 503(7476):365-370. DOI: 10.1038/nature12790.
---
Page 195 of 559