Page 187 of 278
Advanced Computing, Mathematics and Data
Staff Awards & Honors
July 2011
Moe Khaleel Elected to Washington State Academy of Sciences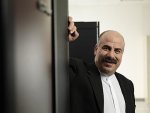 Moe Khaleel
Congratulations to Moe Khaleel, director of the Computational Sciences and Mathematics Division and a Pacific Northwest National Laboratory Fellow, on being elected to the Washington State Academy of Sciences. He is one of two PNNL scientists elected to the Academy this year. Dr. Jim Fredrickson, also a PNNL Fellow, was also elected.
Khaleel was selected based on his international leadership in computational engineering sciences and fuel cell technology. He is known for his contributions to the development and deployment of solid oxide fuel cells and superplastic forming of aluminum alloys.
The Washington State Academy of Sciences provides expert scientific and engineering analysis to inform public policy-making. Also, the Academy works to increase the role and visibility of science in the State of Washington. The Academy was established in 2005.
As director of PNNL's Computational Sciences and Mathematics Division, Khaleel leads the effort to provide scientific and technological solutions through the integration of advanced computing, mathematics, and computational sciences to advance the Laboratory's science, energy, and national security mission areas. He is also a Fellow of the American Association for the Advancement of Science, the American Society of Civil Engineers, and the American Society of Mechanical Engineers.
---
Page 187 of 278