Page 583 of 733
Atmospheric Sciences & Global Change
Research Highlights
November 2010
Glacier Melt and Human Vulnerabilities in Asia
Planning now for climate change effects on the Greater Himalayan region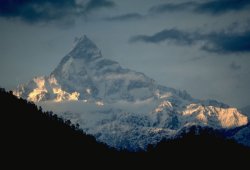 Mount Machapuchare in Nepal is home to many of the more than 50,000 glaciers in the High Asian region. A new report outlines how USAID can help the region's residents prepare for the many ways that glacier melt due to climate change is expected to impact their lives.
Photo courtesy of Dan Miller, USAID
.
Enlarge Image
Results: A new report prepared by scientists from the Joint Global Change Research Institute, a collaboration of Pacific Northwest National Laboratory and the University of Maryland, provides recommendations on how to integrate scientific research and monitoring, as well as health, education, the environment and social organizations, to adequately mitigate the impacts of climate change. The report, Changing Glaciers and Hydrology in Asia: Addressing Vulnerability to Glacier Melt Impacts, was prepared in collaboration with the U.S. Agency for International Development (USAID). The report was presented at the Woodrow Wilson International Center for Scholars meeting in Washington, D.C., in November.
Why it matters: "The extremely high altitudes and sheer mass of High Asian glaciers mean they couldn't possibly melt in the next few decades," says Elizabeth Malone, a PNNL sociologist and the report's technical lead. "But climate change is still happening and we do need to prepare for it. That's especially true in this part of the world, where poverty and other concerns make its residents very vulnerable to any change."
Methods: "This report lays out what are the potential impacts of glacier melt on sectors such as health and agriculture while exploring how USAID programs could respond to the challenges of changing water supplies," states Mary Melnyk, co-author of the study and a USAID natural resource management senior advisor.
For a complete overview of the report, see the press release "Time to Prepare for Climate Change."
The presentation of this paper is posted online in a video archive at the Woodrow Wilson Center.
What's next: Many people who live in High Asia and along the river basins, fed by the region's glaciers, already experience malnutrition and food insecurity, insufficient access to clean water and sanitation, and other issues that will be exacerbated by climate change and population growth. The challenge for agencies like USAID is to incorporate climate change into their existing development efforts so that the quality of life continues to improve in the developing world.
Acknowledgments: This research was funded by USAID.
Reference: Malone E, M Melnyk, K Yarrow, R Armstrong, L D'Agnes, J Ayres, J Gavin, S Harding, K McNamara, B Melchior, F Rosenweig, G Taylor, H D'Agnes and R Rainey. 2010. "Changing Glaciers and Hydrology in Asia: Addressing Vulnerabilities to Glacier Melt Impacts."
---
Page 583 of 733