Page 702 of 732
Atmospheric Sciences & Global Change
Research Highlights
August 2006
Tipping the Balance Toward Harmony with Nature
Predictions of land uses analyzed to evaluate estimates of soil carbon sequestration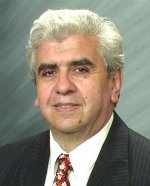 Cesar Izaurralde
Worldwide fossil fuel combustion and land use changes are contributing to increasing concentrations of carbon dioxide and other greenhouse gases in the atmosphere. Stabilizing greenhouse gas concentrations in the atmosphere at life-sustaining levels is one of the greatest challenges facing current and near future generations.
"Large-scale adoption of improved agricultural practices has emerged as an early method to mitigate global warming by restoring part of the worldwide soil organic carbon lost due to historical land use practices," said PNNL scientist Cesar Izaurralde. To estimate the current and future impacts of agricultural practices on soil carbon sequestration levels at regional and national scales, scientists and policy makers are relying on results from laboratory and field experiments, as well as the use of computer models.
Using a sophisticated computer model called the Environmental Policy Integrated Climate, or EPIC, PNNL/University of Maryland scientists at the Joint Global Change Research Institute, with colleagues from Texas A&M University and the U.S. Department of Agriculture, investigated long-term changes in carbon and nitrogen dynamics as affected by crop management and environmental variables. Their study was published in July 2006 in the Journal of Environmental Quality, in a paper titled "Simulating Long-Term and Residual Effects of Nitrogen Fertilization on Corn Yields, Soil Carbon Sequestration, and Soil Nitrogen Dynamics."
Consistent with several previous studies, their overall results suggest that EPIC adequately simulated average crop yields but did not fully capture their annual variability. "Accurate predictions of crop yield are important in order to estimate the right amount of carbon being added to the soil every year," said PNNL scientist Allison Thomson, a co-author of the study.
Their results also showed realistic depictions of soil organic carbon dynamics and accurate estimations of soil carbon sequestration rates. However, the model produced less-than-ideal responses with regards to estimates of the microbial biomass and net nitrogen mineralization rates, suggesting the need for model improvements.
"The use and improvement of a rather complex terrestrial ecosystem model, such as EPIC, is important for understanding the interactions among the biotic and abiotic factors regulating soil carbon sequestration," added Izaurralde.
The EPIC model is an agroecosystem model capable of simulating crop growth as a function of weather, soil, and management conditions, as well as many other processes related to managed ecosystems. It operates on a daily time step and is capable of long-term simulations of up to 4000 years, with soil profiles up to 15 layers. The researchers identified key areas of the model that could be improved, specifically, the microbial biomass component, the nitrogen-cycling component, and the soil response time to changing input conditions.
For more information, see the complete article in the Journal of Environmental Quality (JEQ) web site.
This research was supported by the U.S. Department of Energy, Office of Science, as part of the Terrestrial Carbon Sequestration program in the Office of Biological & Environmental Research and the U.S. Department of Agriculture, Cooperative State Research, Education, and Extension Service (CSREES).
Citation: He, X, RC Izaurralde, MB Vanotti, JR Williams, and AM Thomson. 2006. "Simulating Long-Term and Residual Effects of Nitrogen Fertilization on Corn Yields, Soil Carbon Sequestration, and Soil Nitrogen Dynamics." J Environ Quality 35: 1608-1619.
---
Page 702 of 732