Director's Message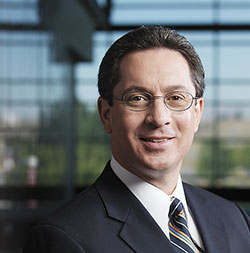 Dr. Steven Ashby,
PNNL Director
Powered by the creativity and innovation of 4,300 exceptional scientists, engineers and support professionals, the U.S. Department of Energy's (DOE's) Pacific Northwest National Laboratory is advancing the frontiers of science and addressing some of the most challenging problems in energy, the environment and national security.
A Premier Chemistry, Environmental Sciences and Data Analytics Lab
PNNL is the DOE's premier chemistry, environmental sciences, and data analytics national laboratory. We also are home to the Environmental Molecular Sciences Laboratory (EMSL), one of DOE's scientific user facilities. At PNNL, our researchers provide national leadership in four areas:
deepening our understanding of climate science
inventing the future power grid
preventing nuclear proliferation
speeding environmental remediation.
Other areas where we make important contributions include energy storage, microbial biology and cyber security. We partner extensively with other labs, academia, and industry in our research, development and deployment activities.
Transformational Science
Our researchers are making exciting discoveries that change the way we view the world around us. In climate science, for example, we are showing how pollution affects storm clouds. We also are studying the regional impacts of climate change on snowpack, which in turn affects agriculture and hydroelectric power production. We are investigating terrestrial ecosystems and the role of microbes in the carbon cycle. Much of this research is performed in EMSL, which annually hosts hundreds of researchers from around the world who come to Richland to partner with EMSL staff to use its suite of 150 sophisticated analytical instruments. This research also benefits from the Atmospheric Radiation Measurement Climate Research Facility, which collects and integrates data from ground-based, mobile, and aerial measurement facilities that are collectively managed by nine labs, including PNNL.
The Power Grid of the Future
Our expertise in materials science, catalysis and high-performance computing is enabling us to develop new, large-scale, energy-storage solutions, which are essential for incorporating wind and solar into the electric grid. At the same time, we are leading a national effort that will transform our nation's electric grid in support of a cleaner, more energy-efficient economy. The recently opened Systems Engineering Laboratory will house these activities and provide a state-of-the-art facility for collaborating with industry and others.
U.S. Borders and Ports of Entry
For more than four decades, PNNL has advanced the science of nuclear materials analysis and ultra-trace detection in support of our national security and fundamental science programs. Our world-leading capability enables us to extract an amazing amount of information from the tiniest amount of radioactive material. This capability, which helps the United States to verify compliance with the Comprehensive Test-Ban Treaty, enabled PNNL scientists to provide critical analysis and advice to the U.S. and Japanese governments in the hours following the Fukushima disaster in 2011. The same expertise is being exploited by the fundamental physics community in its search for dark matter.
From Laboratory Discoveries to Market
PNNL scientists and engineers have an affinity for moving their ideas out of the laboratory and into the commercial world, often in partnership with companies that license our technology. One of our earliest inventions was the optical digital recording technology that enabled the birth of the compact disc. More recently, our millimeter-wave holographic technology is making us safer via more than 1,000 personnel scanning systems at airports around the world. And one of our catalytic processes was licensed to Archer Daniels Midland Company to make a bio-based propylene glycol, which is found in common products such as detergents, cosmetics and antifreeze. In all, PNNL people or technologies have found their way into more than 150 companies.
The Next Generation of Scientists and Engineers
PNNL employees have a passion for service—to our professions and our community. We recognize that we have an obligation to help train the next generation of scientists and engineers, and so we readily embrace and lead STEM education initiatives, as well as mentor hundreds of undergraduate and graduate students who work at PNNL throughout the year. We also generously give our time and talent to the local community through various Team Battelle efforts, such as the Habitat for Humanity project.
Join Us
I hope this message has piqued your interest to learn more about PNNL. We enthusiastically welcome your help and engagement. We therefore invite you to join us—as a collaborator or new hire—in making scientific discoveries and technological innovations that will transform our world.
Dr. Steven Ashby
PNNL Director
View Steve's latest news coverage and presentations.