Programs Areas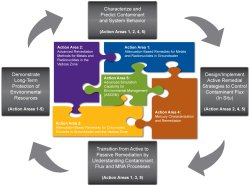 As depicted in the figure on this page, the Office of Groundwater and Soil Remediation Program goals listed below include a number of interrelated action areas with associated objectives (listed further below by action area):
Characterize and predict contaminant and system behavior (Action Areas 1, 2, 4, 5).
Design/implement active remedial strategies to control contaminant flux (in situ) (Action Areas 2, 4, 5).
Transition from active to passive remediation by understanding contaminant flux and monitored natural attenuation processes (Action Areas 1, 3, 5).
Demonstrate long-term protection of environmental resources (Action Areas 1-5).
Attenuation-Based Remedies for Metals and Radionuclides in Groundwater
Sustainable, low-energy remediation approaches
Methods to measure geochemical gradients and attenuation mechanisms
Strategies to reduce characterization costs
Regulatory and stakeholder acceptance for attenuation-based remedies
Advanced Remediation Methods for Metals and Radionuclides in the Vadose Zone
Technical basis for remedial action decisions regarding metals and radionuclides
Advanced remedial alternatives to increase efficiency
Approaches to measure, predict, and monitor long-term impacts of remedial strategies
Life-cycle framework for advanced remedial strategies
Attenuation-Based Remedies for Chlorinated Solvents in Groundwater and the Vadose Zone
Implementation of passive, mass flux-based approaches to remediation
Provision of viable end points for pump-and-treat through implementation of enhanced attenuation approaches
Mercury Characterization and Remediation
Remediation and monitoring strategies to control source zone mercury migration
Innovative technologies for mercury remediation
Characterization and conceptual modeling of contaminant distribution and transport pathways at Y-12 and ORNL that can be applied at other sites
Advanced Simulation Capability for Environmental Management (ASCEM)
A modular and open-source high-performance computing system that facilitates integrated approaches to modeling and site characterization
Enabling of robust and standardized assessments of performance and risk for EM remediation and closure activities