The Initiative
Responding to the Challenge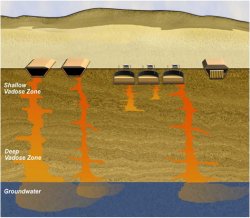 Enlarged View
Pacific Northwest National Laboratory (PNNL) is leading the "Advance Remediation Methods for Metals and Radionuclides in Vadose Zone Environments" initiative to provide transformational technologies, approaches, and strategies to access and deliver remedial amendments to subsurface environments for contaminant stabilization, and to monitor the delivery, emplacement, and long-term performance of in situ remedial technologies and strategies for metals and radionuclides.
The initiative is part of the U.S. Department of Energy Office of Environmental Management (DOE EM) Office of Groundwater and Soil Remediation. The goal of the Office is to reduce the technical risk and uncertainty in site cleanup and corresponding technical needs. Risks are known technical issues that could prevent project success. Uncertainties are indefinite or unpredictable technical aspects of a project. The EM cleanup sites have identified technical gaps in their baselines, which, if resolved, can offer significant cost and schedule reductions to current baselines and improve safety performance for both the workers and the public. To this end, the Office provides technical solutions where none exist, improved solutions that enhance safety and operating efficiency, or technical alternatives that reduce programmatic risks (cost, schedule, or effectiveness).
The initiative involves the innovation, development, and demonstration of innovative technologies for access and delivery and monitoring of enhanced remedial strategies in vadose zone environments. Researchers will perform laboratory-, intermediate-, and field-scale experiments to resolve the geochemical, hydrogeophysical, and microbiologic factors that control the performance and efficiency of remedial delivery, mobility of metal and radionuclide contaminants, and subsurface emplacement and performance monitoring in the vadose zone (water unsaturated sediments below the soil and above groundwater).
Within this initiative, researchers will do the following:
Increase the scientific and technical knowledge to optimize characterization approaches and to understand and identify the behavior of specific metals and radionuclides in vadose zone environments that affect transport, remediation, and sustainability of remedial approaches for metals and radionuclides.
Introduce innovative remedial technologies and strategies for in-situ treatment of specific metals and radionuclides in subsurface environments, including alternative approaches for long-term monitoring that will minimize life-cycle costs.
Reduce the overall technical risk related to the DOE's cleanup mission and facilitation of regulatory concurrence for remediation decisions.
The team includes scientists from PNNL, Lawrence Berkeley National Laboratory (LBNL), Idaho National Laboratory (INL), Savannah River National Laboratory (SRNL), Oregon State University, Washington State University, and MSE Technology Applications Inc., Amec Geomatrix, and DOE contractor CH2M Hill Plateau Remediation Company, LLC (CPRC).