Tour PNNL Virtually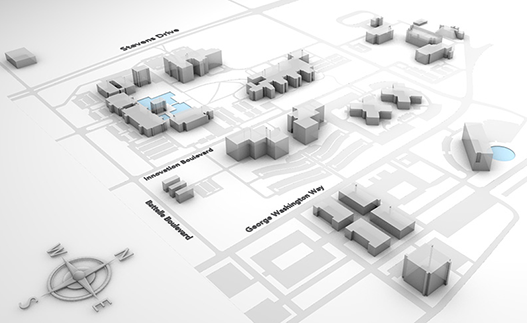 Virtual Tours at PNNL
Take a 360-degree inside peak at where science happens
Our campus has specialized facilities with delicate instruments that allow us to analyze the miniscule and compute the enormous.
Start the tour to visit:
Environmental Molecular Sciences Laboratory is DOE's premier molecular sciences laboratory with state-of-the-art powerful microscopes, spectrometers, and a supercomputer. As a user facility, these instruments are available to biologists, chemists, geologists, physicists, and environmental, materials, and medical research scientists.
Shallow Underground Laboratory is more than 40 feet underground to shield it against cosmic rays. Here researchers support international anti-terrorism treaty verification and also search for dark matter in the universe.
Interdiction Technology and Integration Laboratory helps us protect the nation from nuclear or radiological materials smugglers.
How to Navigate
Before you start the tour, here are few tips on how to navigate.
Arrows located on the bottom right enable you to pan 360-degrees of the space.
The map is interactive and enables you to pan around the room or jump to a new laboratory. It can be closed by clicking the "X."
Labs can be accessed via a dropdown menu.
Symbols within the labs provide additional information, such as videos, photos and links to websites. Be sure to pan or zoom through the entire 360-degree view of the space to find all symbols.