PNNL Director Steven Ashby's Presentation Archive
Event: Keynote for CleanTech Showcase 2016, June 27, Seattle, WA
Title: Leading the Nation in Clean Technology
Summary: PNNL researchers are advancing science that will result in lower cost and improved lifespan for electric vehicle batteries, more efficient lighting, sustainable buildings, and a reliable power grid, among other things, said Director Steven Ashby as a keynote speaker at the CleanTech Showcase 2016.
View Steve's entire presentation for more information.
---
Event: Tri-City Development Council (TRIDEC) Annual Meeting, Kennewick, Wash., April 20, 2015
Title: The Future of the Pacific Northwest National Laboratory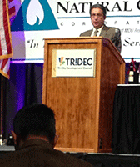 Summary: PNNL aspires to become widely recognized as a world-class scientific research institution and to strengthen the Northwest's reputation as an intellectual powerhouse, said Laboratory Director Steven Ashby.
More than 200 attended the annual TRIDEC meeting where Steve described PNNL as the Department of Energy's premiere national laboratory in chemistry, environmental sciences and data analytics. He said PNNL has leveraged this science base to provide leadership in four areas that are important to the U.S.:
climate sciences—understanding and mitigating the impacts of climate change
electric grid—inventing and securing the future power grid
environmental remediation—speeding remediation and developing new large-scale energy storage solutions
nuclear non-proliferation—helping the nation understand the potential threat and development of nuclear weapons

Download to view Steve's entire presentation. You also can read an article published in the Tri-City Herald that covers the speech.
Interactive Flipbook | PDF

View Steve's live presentation, which begins at the 18-minute mark in the timecode.