Staff information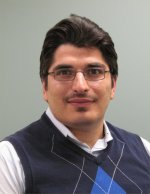 Mohamad Hejazi
Integrated Modeling & Energy
Scientist
Send Email
Biography
Mohamad Hejazi is a research scientist with the Joint Global Change Research Institute (JGCRI) and the Pacific Northwest National Laboratory. He holds a Ph.D. (2009) from the University of Illinois at Urbana-Champaign, and a B.S. (2002) and M.S. (2004) degrees from the University of Maryland, College Park. His research interests include: global hydrologic modeling, global and regional sectoral water demand models, separating the effect of climate change, human activities, and climate policies on hydrology, and the value of information (e.g. weather and climate forecasts) to human decisions (e.g., farmers, reservoir operators). Prior to joining JGCRI-PNNL, he worked as a postdoctoral research associate at the University of Illinois Urbana-Champaign and as a research assistant at the USGS and the Illinois Water Survey.
PNNL Publications
2014
Hejazi MI

, X Cai, X Yuan, XZ Liang, and P Kumar. 2014.

"Incorporating reanalysis-based short-term forecasts from a regional climate model in an irrigation scheduling optimization problem."

Journal of Water Resources Planning and Management

140

(5):699-713.

doi:10.1061/(ASCE)WR.1943-5452.0000365

Hejazi MI, JA Edmonds, LE Clarke, GP Kyle, E Davies, V Chaturvedi, MA Wise, PL Patel, J Eom,

KV Calvin

, RH Moss, and SH Kim. 2014.

"LONG-TERM GLOBAL WATER USE PROJECTIONS USING SIX SOCIOECONOMIC SCENARIOS IN AN INTEGRATED ASSESSMENT MODELING FRAMEWORK."

Technological Forecasting and Social Change

81

:205-226.

doi:10.1016/j.techfore.2013.05.006
2013
Chaturvedi V, MI Hejazi, JA Edmonds, LE Clarke, GP Kyle, E Davies, MA Wise, and

KV Calvin

. 2013. Climate policy implications for agricultural water demand.

PNNL-22356

, Pacific Northwest National Laboratory, Richland, WA.
Hejazi MI, JA Edmonds, V Chaturvedi, E Davies, and

J Eom

. 2013.

"Scenarios of Global Municipal Water-Use Demand Projections over the 21st Century."

Hydrological Sciences Journal

58

(3):1-20.

doi:10.1080/02626667.2013.772301

Kyle GP, E Davies, JJ Dooley,

SJ Smith

, LE Clarke, JA Edmonds, and MI Hejazi. 2013.

"Influence of Climate Change Mitigation Technology on Global Demands of Water for Electricity Generation."

International Journal of Greenhouse Gas Control

13

:112-123.

doi:10.1016/j.ijggc.2012.12.006

Voisin N,

L Liu

, MI Hejazi, TK Tesfa, H Li, M Huang, Y Liu, and LYR Leung. 2013.

"One-way coupling of an integrated assessment model and a water resources model: evaluation and implications of future changes over the US Midwest ."

Hydrology and Earth System Sciences

17

(No. 11):4555-4575.

doi:10.5194/hess-17-4555-2013
2012
Hejazi MI, JA Edmonds, and

V Chaturvedi

. 2012.

"Global irrigation demand - A holistic approach."

Irrigation & Drainage Systems Engineering

1

(2):Article No. e106.
2011
Cai X,

MI Hejazi

, and D Wang. 2011.

"Value of Probabilistic Weather Forecasts: Assessment by Real-Time Optimization of Irrigation Scheduling."

Journal of Water Resources Planning and Management

137

(5):391-403.

doi:10.1061/(ASCE)WR.1943-5452.0000126

Wang D, and

MI Hejazi

. 2011.

"Quantifying the relative contribution of the climate and direct human impacts on mean annual streamflow in the contiguous United States."

Water Resources Research

47

:Article No. W00J12.

doi:10.1029/2010WR010283