Staff information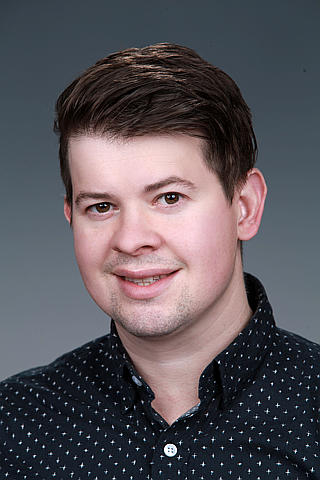 Chuck Smallwood
Biosystms Dynamics & Simula
Post Doctorate RA C
Pacific Northwest National Laboratory
PO Box 999
MSIN: K8-95
Richland, WA 99352
Send Email
Biography
Dr. Smallwood is part of a multidisciplinary team developing platforms that enable biological investigations of dynamic structural and chemical biosystems across relevant spatial and temporal scales. In addition, these platforms are complemented with correlative imaging from non-destructive to static to destructive analysis of the same samples arrested in time capturing transient states of cell metabolic mechanisms relevant to multiscale demensions. Dr. Smallwood's workscope involves providing scientific and technical expertise to projects across disciplines conducting in vivo investigations of cellular transport in bacteria, fungi, plants and algae. His speciality includes biophysical and analytical analysis of protein functional-structral relationships and metabolic engineering of industry relevant biological pathways.
Dr. Smallwood's research focuses on characterizing cellular mechanisms of nutrient acquisition and antibiotic resistance focused on membrane trasnport and cell-surface interfaces, with direct characterization of living biosystems with high resolution microsocpy and biochemical analysis. He is currently investigating the linkages between intercellular nitrogen and carbon metabolic pathways of photosynthetic systems and the underlying mechanisms of TAG lipid accumulation in microalgae for development of advanced biofuel feedstocks. Dr. Smallwood also manages CARS and confocal fluorescence microscopy instrumentation, which provides unparralled in vivo imaging of biological and non-biological systems. He works closely with users from universities, companies, and other national laboratories as part of the DOE Multimodal Imaging and Analysis initiative to develop methods and technologies to analytically target and enhance live-cell imaging approaches enabling real-time visualization of biological systems.
Research Interests
Biological cell membrane transport of metabolites
Metal complexes
Drugs and toxins that relate to the environment
Health
Bioenergy.
Specifically, enabling non-destructive biochemical and bioimaging capabilities to study mechanisms in natural and synthetic cells that reveals targets for genetic engineering initiatives.
Education and Credentials
Ph.D., Biochemistry, University of Oklahoma, Norman, OK, 2012
B.S., Biochemistry, University of Oklahoma, Norman, OK, 2007
Awards and Recognitions
Belle W. Goodman Award for Outstanding Scholarship in Research, University of Oklahoma, 2012
American Society for Biochemistry and Molecular Biology Annual Meeting Travel Award, 2010
NSF-REU Undergraduate Research Fellow, 2007
PNNL Publications
2017
Geng T, CR Smallwood,

EL Bredeweg

, KR Pomraning, AE Plymale, SE Baker, JE Evans, and RT Kelly. 2017.

"Multimodal Microfluidic Platform for Controlled Culture and Analysis of Unicellular Organisms."

Biomicrofluidics

11

(5):054104.

doi:10.1063/1.4986533

Geng T, CR Smallwood, Y Zhu,

EL Bredeweg

, SE Baker, JE Evans, and RT Kelly. 2017.

"Multimodal Microchannel and Nanowell-Based Microfluidic Platforms for Bioimaging."

In

Proceedings of the 10th IEEE International Conference on Nano/Molecular Medicine and Engineering (NANOMED 2016), October 30- November 2, 2016, Macau, China

,

pp. 155-158

. IEEE, PISCATAWAY, NJ.

doi:10.1109/NANOMED.2016.7883480

Novikova IV, CR Smallwood, Y Gong, D Hu, L Hendricks, JE Evans,

A Bhattarai

, WP Hess, and PZ El-Khoury. 2017.

"Multimodal Hyperspectral Optical Microscopy."

Chemical Physics

498-499

:25-32.

doi:10.1016/j.chemphys.2017.08.011