Staff information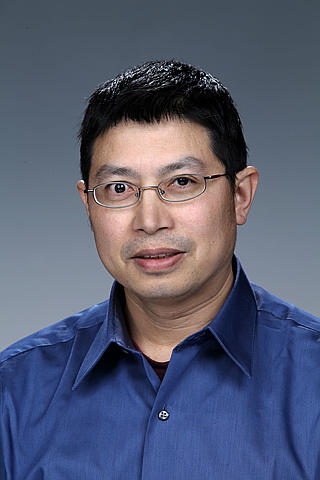 Xiaohua Hu
Computational Engineering
Scientist
Pacific Northwest National Laboratory
PO Box 999
MSIN: K7-90
Richland, WA 99352
Send Email
Research Interests
Multi-scale, multi-physics and multi-phase simulations
Texture and crystal plasticity
Material Processing and Forming analyses
Material failure (fracture and fatigue) analyses
Education and Credentials
1998 Ph.D. Materials Science and Engineering, University of Science & Technology Beijing, Beijing, China
1992 M.S.E. Materials Science and Engineering, University of Science & Technology Beijing, Beijing, China
1989 B.S.E. Materials Science and Engineering, University of Science & Technology Beijing, Beijing, China
PNNL Publications
2018
Hu X

, X Wang, VV Joshi, and CA Lavender. 2018.

"The effect of thermomechanical processing on second phase particle redistribution in U-10wt%Mo."

Journal of Nuclear Materials

500

:270-279.

doi:10.1016/j.jnucmat.2017.12.042

Wu W, YW Wang, P Makrygiannis, F Zhu, G Thomas, LG Hector,

X Hu

, X Sun, and Y Ren. 2018.

"Deformation Mode and Strain Path Dependence of Martensite Phase Transformation in a Medium Manganese TRIP Steel."

Materials Science and Engineering. A. Structural Materials: Properties, Microstructure and Processing

711

:611-623.

doi:10.1016/j.msea.2017.11.008
2017
Hu X

, X Sun, and SF Golovashchenko. 2017.

"The Role of Second Phase Hard Particles on Hole Stretchability of two AA6xxx Alloys."

In

SAE World Congress Experience (WCX17), April 4-6, 2017, Detroit, Michigan

,

pp. SAE Technical Paper: 2017-01-0307

. SAE International, WARRENDALE, PA.

doi:10.4271/2017-01-0307

Hu X

, X Sun, LG Hector, and Y Ren. 2017.

"Individual Phase Constitutive Properties of a TRIP-assisted QP980 Steel from a Combined Synchrotron X-ray Diffraction and Crystal Plasticity Approach."

Acta Materialia

132

:230-244.

doi:10.1016/j.actamat.2017.04.028

Cheng G,

X Hu

, KS Choi, and X Sun. 2017.

"Predicting Grid Size-dependent Fracture Strains of DP980 with a Microstructure-based Post-necking Model."

International Journal of Fracture

207

(2):211-227.

doi:10.1007/s10704-017-0229-8

Cheng G, KS Choi,

X Hu

, and X Sun. 2017.

"Computational material design for Q&P steels with plastic instability theory."

Materials & Design

132

:526-538.

doi:10.1016/j.matdes.2017.07.029

Cheng G, KS Choi,

X Hu

, and X Sun. 2017.

"Predicting Deformation Limits of Dual Phase Steels under Complex Loading Paths."

JOM. The Journal of the Minerals, Metals and Materials Society

69

(6):1046-1051.

doi:10.1007/s11837-017-2333-7
2016
Cheng G, KS Choi, X Hu, and X Sun.

2016.

"Determining Individual Phase Properties in a Multi-phase Q&P Steel using Multi-scale Indentation Tests."

Materials Science and Engineering. A. Structural Materials: Properties, Microstructure and Processing

652

:384-395.

doi:10.1016/j.msea.2015.11.072

Hu X, KS Choi, X Sun, Y Ren, and YD Wang.

2016.

"Determining Individual Phase Flow Properties in a Quench and Partitioning Steel with In-Situ High-Energy X-ray Diffraction and Multiphase Elasto-Plastic Self-Consistent Method."

Metallurgical and Materials Transactions. A, Physical Metallurgy and Materials Science

47

(12):5733-5749.

doi:10.1007/s11661-016-3373-2

Hu X, X Sun, and SF Golovashchenko.

2016.

"An Integrated Finite Element-based Simulation Framework: From Hole Piercing to Hole Expansion."

Finite Elements in Analysis and Design

109

:1-13.

doi:10.1016/j.finel.2015.09.005

Poling WA, V Savic, LG Hector, AK Sachdev, X Hu, A Devaraj, and F Abu-Farha.

2016.

"Combined Synchrotron X-ray Diffraction and Digital Image Correlation Technique for Measurement of Austenite Transformation with Strain in TRIP-assisted Steels."

In

SAE World Congress & Exhibition, April 12-14, 2016, Detroit, Michigan

,

pp. SAE Technical Paper 2016-01-0419

. SAE International, WARRENDALE, PA.

doi:10.4271/2016-01-0419
2015
Stander N, A Basudhar, U Basu, I Gandikota, V Savic, X Sun, KS Choi, X Hu, F Pourboghrat, T Park, A Mapar, S Kumar, H Ghassemi-Armaki, and F Abu-Farha.

2015.

"Multi-scale Material Parameter Identification Using LS-DYNA® and LS-OPT®."

In

10th European LS-Dyna Conference, June 15-17, 2015, Wurzburg, Germany

.

No publisher listed

.
2014
Choi KS, X Hu, X Sun, MD Taylor, E De Moor, J Speer, and DK Matlock.

2014.

"Effects of Constituent Properties on Performance Improvement of a Quenching and Partitioning Steel."

In

SAE 2014 World Congress, April 8-10, 2014, Detroit, Michigan

,

pp. Paper No. 2014-01-0812

. SAE International, Warrendale, PA.

doi:10.4271/2014-01-0812

Hu X, KS Choi, X Sun, and SF Golovashchenko.

2014.

"Edge Fracture Prediction ofTraditional and Advanced Trimming Processes for AA6111-T4 Sheets."

Journal of Manufacturing Science and Engineering

136

(2):Article No. 021016.

doi:10.1115/1.4026273

Hu X, X Sun, and SF Golovashchenko.

2014.

"Predicting Tensile Stretchability of Trimmed AA6111-T4 Sheets."

Computational Materials Science

85

:409-419.

doi:10.1016/j.commatsci.2014.01.015

Wang Y, X Sun, YD Wang, X Hu, and HM Zbib.

2014.

"A Mechanism-based Model for Deformation Twinning in Polycrystalline FCC Steel."

Materials Science and Engineering. A. Structural Materials: Properties, Microstructure and Processing

607

:206-218.

doi:10.1016/j.msea.2014.04.010

Wang Y, X Sun, YD Wang, X Hu, and HM Zbib.

2014.

"Modeling of TWIP Steel Tensile Behavior with Crystal Plasticity Finite Element Method."

Advanced Materials Research

926-930

:162-165.

doi:10.4028/www.scientific.net/AMR.926-930