Staff information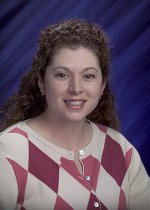 Nicole Keck
Data Integration
Project Manager
Pacific Northwest National Laboratory
PO Box 999
MSIN: K7-22
Richland, WA 99352
Send Email
Biography
Nicole joined Pacific Northwest National Laboratory in 2000 as a student intern, and later joined the lab full time. Her professional experience at the lab has ranged from computer technician to project manager.
Research Interests
Data and metadata versioning and lineage.
Data acquisition, field computing devices.
Metadata generation, storage, and management.
Education and Credentials
PNNL, PNNL University, Project Management Development Program (PMDP)
B.S., Environmental Studies, American Military University, 2005
A.A., General Studies, Columbia Basin College, 2002
A.A.S., Software Specialist, Columbia Basin College, 2002
A.A.S., Network Administration, Columbia Basin College, 2001
Affiliations and Professional Service
AGU, American Geophysical Union
Awards and Recognitions
Publications
2008
R.A Peppler, C.N. Long, D.L. Sisterson, D.D. Turner, C.P. Bahrmann, S.W. Christensen, K.J. Doty, R.C. Eagan, T.D. Halter, M.D. Ivey, N.N. Keck, K.E. Kehoe, J.C. Liljegren, M.C. Macduff, J.H. Mather, R.A. McCord, J.W. Monroe, S.T. Moore, K.L. Nitschke, B.W. Orr, R.C. Perez, B.D. Perkins, S.J. Richardson, K.L. Sonntag, J.W. Voyles, R. Wagner. 2008. "An Overview of ARM Program Climate Research Facility Data Quality Assurance." The Open Atmospheric Science Journal, Volume 2, ISSN:1874-2823,pp.192-216.
Presentations
2010
Keck NN, and MC Macduff. 2010. "ARRA Upgrades at the Data Management Facility." Presented by Nicole Keck (invited Speaker) at ASR 2010 Science Team Meeting, Bethesda, MD on March 17, 2010. PNNL-SA-71456.
2008
Keck NN. 2008. "ARM Data Management FAcility - "Status, Tools, & Needs"." Presented by Nicole Keck (Invited Speaker) at Annual ARM Developer Meeting, Argonne, IL on July 9, 2008. PNNL-SA-61212.
2007
Keck NN, MC Macduff, TJ Martin, and SJ Beus. 2007. "Optimization of the ACRF Data Management Facility." Presented by Keck, Nicole N. at ARM Science Team Meeting, Monterey, CA on March 27, 2007. PNNL-SA-56306.