Staff information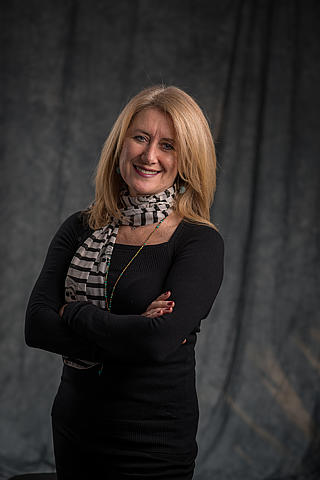 Vanda Glezakou
Basic/Applied Molecular Found
Computational Scientist
Pacific Northwest National Laboratory
PO Box 999
MSIN: K1-83
Richland, WA 99352
Send Email
Research Interests
Studies of CO2 sorption mechanism in shale components
Solvent transformation for post-combustion CO2 separation
Mechanistic studies for metal organic framework self-assembly
Catalyst design for hydrometallation/transmetallation reactions
Education and Credentials
PhD in Physical/Theoretical Chemistry, Iowa State University
B.S. Chemistry, National Kapodistrian University of Athens, Greece
Affiliations and Professional Service
American Chemical Society
American Geophysical Union
PNNL Publications
2020
2019
2018
2017
2016
2015
Koech P.K., D. Malhotra, D.J. Heldebrant, D. Cantu Cantu, V.A. Glezakou, and R.J. Rousseau. 2015. "Synthesis and characterization of low viscosity carbon dioxide binding organic liquids for flue gas clean up." In Energy & Fuels Preprints Presented at the 249th ACS National Meeting & Exposition, March 22-26, 2015, Denver, Colorado, 60, 628-630. Washington, District Of Columbia:American Chemical Society. PNNL-SA-106437.
Lee M., B.P. McGrail, R.J. Rousseau, and V.A. Glezakou. 2015. "Structure, dynamics and stability of water/scCO2/mineral interfaces from ab initio molecular dynamics simulations." Scientific Reports 5. PNNL-SA-105852. doi:10.1038/srep14857
Mu R., D. Cantu Cantu, V.A. Glezakou, I. Lyubinetsky, R.J. Rousseau, and Z. Dohnalek. 2015. "Deprotonated Water Dimers: The Building Blocks of Segmented Water Chains on Rutile RuO2(110)." Journal of Physical Chemistry C 119, no. 41:23552-23558. PNNL-SA-111243. doi:10.1021/acs.jpcc.5b07158
Schaef H.T., J.S. Loring, V.A. Glezakou, Q.R. Miller, J. Chen, A.T. Owen, and M. Lee, et al. 2015. "Competitive Sorption of CO2 and H2O in 2:1 Layer Phyllosilicates." Geochimica et Cosmochimica Acta 16. PNNL-SA-101900. doi:10.1016/j.gca.2015.03.027
Schwenzer B., L. Cosimbescu, V.A. Glezakou, A.J. Karkamkar, Z. Wang, and R.S. Weber. 2015. "Use of Solvatochromism to Assay Preferential Solvation of a Prototypic Catalytic Site." Topics in Catalysis 58, no. 4-6:258-270. PNNL-SA-101069. doi:10.1007/s11244-015-0367-z
Yoon Y., Y. Wang, R.J. Rousseau, and V.A. Glezakou. 2015. "Impact of nonadiabatic charge transfer on the rate of redox chemistry of carbon oxides on rutile TiO2 (110) surface." ACS Catalysis 5, no. 3:1764-1771. PNNL-SA-106896. doi:10.1021/cs501873m
2014
Cantu Cantu D., B.P. McGrail, and V.A. Glezakou. 2014. "Formation mechanism of the secondary building unit in a chromium terephthalate metal-organic framework." Chemistry of Materials 26, no. 22:6401-6409. PNNL-SA-103317. doi:10.1021/cm5027859
Heldebrant D.J., V.A. Glezakou, P.K. Koech, P.M. Mathias, D. Cantu Cantu, R.J. Rousseau, and D. Malhotra, et al. 2014. "Evaluating transformational solvent systems for post-combustion CO2 separations." Energy Procedia 63. PNNL-SA-115535. doi:10.1016/j.egypro.2015.12.336
Lee M., B.P. McGrail, and V.A. Glezakou. 2014. "Microstructural Response of Variably Hydrated Ca-Rich Montmorillonite to Supercritical CO2." Environmental Science & Technology 48, no. 15:8612-8619. PNNL-SA-99819. doi:10.1021/es5005889
Lercher J.A., A.M. Appel, T. Autrey, R.M. Bullock, D.M. Camaioni, H.M. Cho, and D.A. Dixon, et al. 2014. "Multifunctional Catalysts to Synthesize and Utilize Energy Carriers." In Frontiers at the Interface between Homogeneous and Heterogeneous Catalysis, II, 207-219. Washington, District Of Columbia:U.S. Department of Energy, Office of Science. PNNL-SA-103068.
Mei D., V.A. Glezakou, V.M. Lebarbier, L. Kovarik, H. Wan, K.O. Albrecht, and M.A. Gerber, et al. 2014. "Highly Active and Stable MgAl2O4 Supported Rh and Ir Catalysts for Methane Steam Reforming: A Combined Experimental and Theoretical Study." Journal of Catalysis 316. PNNL-SA-99099. doi:10.1016/j.jcat.2014.04.021
Mu R., D. Cantu Cantu, X. Lin, V.A. Glezakou, Z. Wang, I. Lyubinetsky, and R.J. Rousseau, et al. 2014. "Dimerization Induced Deprotonation of Water on RuO2(110)." The Journal of Physical Chemistry Letters 5, no. 19:3445-3450. PNNL-SA-103828. doi:10.1021/jz501810g
Schaef H.T., C.L. Davidson, A.T. Owen, Q.R. Miller, J.S. Loring, C.J. Thompson, and D.H. Bacon, et al. 2014. "CO2 Utilization and Storage in Shale Gas Reservoirs: Experimental Results and Economic Impacts." Energy Procedia 63. PNNL-SA-105772. doi:10.1016/j.egypro.2014.11.819
2013
Albrecht K.O., V.A. Glezakou, R.J. Rousseau, M.H. Engelhard, T. Varga, R.J. Colby, and J.E. Jaffe, et al. 2013. Rh-Based Mixed Alcohol Synthesis Catalysts: Characterization and Computational Report. PNNL-22697. Richland, WA: Pacific Northwest National Laboratory. Rh-Based Mixed Alcohol Synthesis Catalysts: Characterization and Computational Report
Glezakou V.A., and B.P. McGrail. 2013. "Density functional simulations as a tool to probe molecular interactions in wet supercritical CO2." In Application of Molecular Modeling to Challenges in Clean Energy. ACS Symposium Series, edited by G Fitzgerald and N Govind. 31-49. Washington Dc:American Chemical Society. PNNL-SA-92743.
Mei D., V.M. Lebarbier, R.J. Rousseau, V.A. Glezakou, K.O. Albrecht, L. Kovarik, and M.D. Flake, et al. 2013. "Comparative Investigation of Benzene Steam Reforming over Spinel Supported Rh and Ir Catalysts." ACS Catalysis 3, no. 6:1133-1143. PNNL-SA-93222. doi:10.1021/cs4000427
Wang Y., Y. Yoon, V.A. Glezakou, J. Li, and R.J. Rousseau. 2013. "The Role of Reducible Oxide-Metal Cluster Charge Transfer in Catalytic Processes: New Insights on The Catalytic Mechanism of CO Oxidation on Au/TiO2 from Ab Initio Molecular Dynamics." Journal of the American Chemical Society 135, no. 29:10673-10683. PNNL-SA-93957. doi:10.1021/ja402063v
2012
2011
Glezakou V.A., and W.A. De Jong. 2011. "Cluster-Models for Uranyl(VI) Adsorption on alpha-Alumina." Journal of Physical Chemistry A 115, no. 7:1257-1263. PNNL-SA-74630.
2010
Glezakou V.A., R.J. Rousseau, L.X. Dang, and B.P. McGrail. 2010. "'Structure, Dynamics and Vibrational Spectrum of Supercritical CO2/H2O Mixtures from Ab Initio Molecular Dynamics as a Function of Water Cluster Formation." Physical Chemistry Chemical Physics. PCCP 12, no. 31:8759-8771. PNNL-SA-68735. doi:10.1039/B923306G
Glezakou V.A., S.T. Elbert, S.S. Xantheas, and K. Ruedenberg. 2010. "Analysis of Bonding Patterns in the Valence Isoelectronic series O-3, S-3, SO2 and OS2 in Terms of Oriented Quasi-Atomic Molecular Orbitals." Journal of Physical Chemistry A 114, no. 33:8923-8931. PNNL-SA-73193.
Mei D., R.J. Rousseau, S.M. Kathmann, V.A. Glezakou, M.H. Engelhard, W. Jiang, and C.M. Wang, et al. 2010. "Ethanol synthesis from syngas over Rh-based/SiO2 catalysts: A combined experimental and theoretical modeling study." Journal of Catalysis 271, no. 2:325-342. PNNL-SA-68644.
2009
Glezakou V.A., and P. Taylor. 2009. "On the electron affinity of B2." European Journal of Mass Spectrometry 15, no. 2:337-341. PNNL-SA-62678. doi:10.1255/ejms.988
Glezakou V.A., L.X. Dang, and B.P. McGrail. 2009. "Spontaneous activation of CO2 and possible corrosion pathways on the low-index Iron surface Fe(100)." Journal of Physical Chemistry C 113, no. 9:3691-3696. PNNL-SA-61914.
McGrail B.P., H.T. Schaef, V.A. Glezakou, L.X. Dang, and A.T. Owen. 2009. "Water Reactivity in the Liquid and Supercritical CO2 Phase: Has Half the Story Been Neglected?." Energy Procedia 1, no. 1:3415-3419. PNNL-SA-68583. doi:10.1016/j.egypro.2009.02.131
2007
Glezakou V.A., M. Dupuis, and C.J. Mundy. 2007. "Acid/base equilibria in clusters and their role in proton exchange membranes: Computational insight." Physical Chemistry Chemical Physics. PCCP 9, no. 43:5752-5760. PNNL-SA-55907. doi:10.1039/b709752b
2006
Dang L.X., G.K. Schenter, V.A. Glezakou, and J.L. Fulton. 2006. "Molecular simulation analysis and X-ray absorption measurement of Ca2+, K+, and Cl- ions in solution." Journal of Physical Chemistry B 110, no. 47:23644-23654. PNNL-SA-51118.
Glezakou V.A., Y. Chen, J.L. Fulton, G.K. Schenter, and L.X. Dang. 2006. "Electronic Structure, Statistical Mechanical Simulations, and EXAFS Spectroscopy of Aqueous Potassium." Theoretical Chemistry Accounts 115, no. 2-3:86-99. PNNL-SA-45815. doi:10.1007/s00214-005-0054-4