Staff information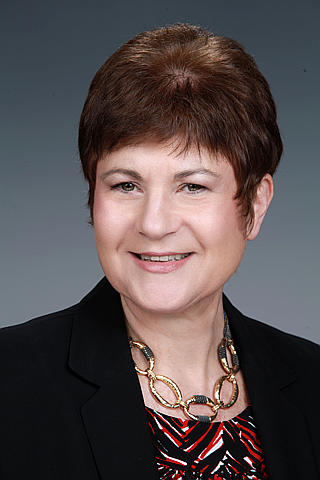 Charlette Geffen
Earth & Biological Sciences
Chief Science & Tech Officer
Pacific Northwest National Laboratory
PO Box 999
MSIN: J4-16
Richland, WA 99352
Send Email
Biography
As Director of Research Strategy and Chief Science and Technology Officer for the Earth and Biological Sciences Directorate, Dr. Geffen provides leadership for a research portfolio of approximately $150M in externally funded programs and another $7M in internal investments across a broad integrated Earth and biological sciences spectrum. Dr. Geffen has the responsibility for science strategy, program development and management, sponsor interactions and research collaborations for key programs, working with teams across the organization to deliver the appropriate scientific talent and outcomes to our sponsors.
In her prior role as Director for the Atmospheric Sciences and Global Change (ASGC) Division, and the Laboratory Research Manager for the Climate and Environmental Sciences Programs at the Pacific Northwest National Laboratory, Dr. Geffen had a dual role. As the Division Director, she directed research to understand the atmospheric processes that drive regional and global earth systems, the integrated water cycle, and interactions with precipitation, land surface and human activities. The Division at the time included over 140 staff, post-docs and students, with a primary focus on cloud physics and aerosol-cloud-precipitation interactions; global- and regional-scale climate modeling, including hydrologic systems and human systems; and complex regional meteorology and aerosol chemistry. A third of the division is located in College Park, MD, where a Joint Global Change Research Institute (JGCRI) was established in partnership with the University of Maryland. The Institute houses an interdisciplinary team focused on understanding global climate change challenges and potential solutions. In addition to the JGCRI, Dr. Geffen also had responsibility for a DOE scientific user facility (the Atmospheric Radiation Measurement Climate Research Facility) and an Atmospheric Measurements Laboratory (AML). Dr. Geffen led the campaign and obtained the financing to build the AML, a three year project which was completed in early 2011.
Dr. Geffen was the steward for three major laboratory level investments over the years: the Environmental Health Initiative; the Aerosol-Climate Initiative and the Platform for Regional Integrated Modeling and Analysis (PRIMA) Initiative. In addition to developing the vision and strategy for these activities, working with key stakeholders within and outside PNNL, these responsibilities also required developing strong relationships with DOE and other funding agencies, other national laboratories and institutions, and a number of collaborators within the university system.
Dr. Geffen has served in many advisory roles. She was elected as a member of the Board of Trustees for UCAR in 2014, and was also appointed to the Environmental Protection Agency (EPA) Board of Scientific Counselors, Air, Climate and Energy subcommittee in 2014. She was a lead author on a National Research Council report on collaborations between DOE national laboratories and universities. Other activities include a reviewer for NSF on the NCAR management contract renewal, an advisor to the Council on Economic Priorities industry study on the environmental performance of the U.S. automobile industry, and serving as an expert on the peer review panel for the Air Pollution and Control Division programs in the EPA Office of Research and Development. She is a reviewer for the International Journal of Operations Management, and is a member of the Executive Board for the International Association for the Management of Technology (IAMOT).
Dr. Geffen has served in a variety of research and leadership positions during her career at PNNL, as well as ten years as an adjunct faculty member at Washington State University - Tri-Cities. She has published over fifty articles and reports, and made many scientific and programmatic presentations. Dr. Geffen is a member of American Geophysical Union (AGU), American Meteorological Society (AMS), the American Association for the Advancement of Science (AAAS) and the International Association for the Management of Technology (IAMOT).
Research Interests
Earth and environmental sciences; energy-water-land nexus; R&D management and strategic planning; emerging technology assessment; energy and environmental policy analysis
Education and Credentials
Ph.D., Technology Management and Planning through the Civil and Environmental Engineering Department,
Massachusetts Institute of Technology
M.B.A., Finance, University of Washington
B.S., Civil Engineering, Stanford University
Affiliations and Professional Service
American Geophysical Union
American Association for Advancement of Science
American Meteorological Society
International Association for the Management of Technology
PNNL Publications
2005
Geffen C.A. 2005. National Laboratories and Universities: Building New Ways to Work Together: Report of a Workshop (2005). Washington, District Of Columbia:The National Academies Press. PNNL-SA-128256. doi:10.17226/11190
2004
Geffen C.A., and K.S. Judd. 2004. "Innovation through Initiatives -- A Framework for Building New Capabilities in Public Sector Research Organizations." Journal of Engineering and Technology Management. JET-M 21, no. 4:281-306. PNNL-SA-37895.
2003
Dooley J.J., C.A. Geffen, and S.H. Kim. 2003. "Global Climate Change and the Transportation Sector: An Update on Issues and Mitigation Options." In 9th Diesel Engine Emissions Reduction Conference. Newport, Rhode Island:Proceedings of the 9th Diesel Engine Emissions Reduction Conference. PNNL-SA-128258.
2002
Dooley J.J., C.A. Geffen, and J.A. Edmonds. 2002. "Global Climate Change and the Unique Challenges Posed by the Transportation Sector." In Proceedings of the 8th Diesel Engine Emissions Reduction Conference, San Diego, CA, August 26, 2002. San Diego, California:8th Diesel Engine Emissions Reduction Conference. PNNL-SA-128247.
2000
Geffen C.A., and S. Rothenberg. 2000. "Suppliers and Environmental Innovation: The Automotive Paint Process." International Journal of Operations and Production Management 20, no. 2:166-186. PNNL-SA-35105.
1999
Geffen C.A. 1999. "Emerging Standards for Automotive Assembly Plants: The Need for a Systems Approach." In Vehicle recycling, regulatory, policy and labeling issues, 1999 SAE International Congress and Exposition, SAE/SP-99/1430, 179-187. Warrendale, Pennsylvania:Society of Automotive Engineers. PNNL-SA-35103.
1998
Geffen C.A., F.R. Field, III, and J.A. Isaacs. 1998. "Economic and Environmental Tradeoffs in New Automotive Painting Technologies." In Engineering the Product Development Revolution:1998 SAE International Congress and Exposition, February 23-26, 1998, Cobo Center, Detroit, Michigan, USA.. Warrendale, Pennsylvania:SAE International. PNNL-SA-35102.
1996
Geffen C.A. 1996. "Public Expectations and Corporate Strategy." Corporate Environmental Strategy 33, no. 1996:33-41. PNNL-SA-35178.
1995
Geffen C.A. 1995. "Radical Innovation in Environmental Technologies: The Influence of Federal Policy." Science and Public Policy 22, no. 5:313-323. PNNL-SA-35179.