Page 630 of 1002
Physcial Sciences Division
Research Highlights
June 2011
The Heat Is On for Sodium-Manganese Oxide Rechargeable Batteries
New method to make sodium ion-based battery cells could lead to better, cheaper batteries for the electrical grid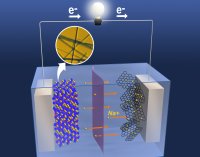 The crystalline, uniform nanostructure of heat-treated manganese oxide provides pathways in which sodium ions can flow, improving the performance of the manganese oxide electrodes.
Enlarge Image
Results: By adding the right amount of heat, scientists at Pacific Northwest National Laboratory and visiting researchers from Wuhan University in China have developed a method that improves the electrical capacity and recharging lifetime of sodium ion rechargeable batteries, which could be a cheaper alternative for large-scale uses such as storing energy on the electrical grid. The team, working with EMSL resources, used nanomaterials to make electrodes that can work with sodium. The results were reported in Advanced Materials.
Why it matters: To connect solar and wind energy sources to the electrical grid, grid managers require batteries that can store large amounts of energy created at the source. Lithium ion rechargeable batteries—common in consumer electronics and electric vehicles—perform well, but are too expensive for widespread use on the grid because many batteries will be needed, and they will likely need to be large. Sodium is the next best choice, but the sodium-sulfur batteries currently in use run at temperatures above 300 degrees Celsius, or three times the temperature of boiling water, making them less energy efficient and less safe than batteries that run at ambient temperatures. Battery developers want the best of both worlds—to use both inexpensive sodium and use the type of electrodes found in lithium rechargeables.
Read the press release from Pacific Northwest National Laboratory.
Acknowledgments: This work was funded by the Department of Energy's Office of Science and Office of Electricity Delivery & Energy Reliability.
Transmission electron microscopy and other resources at EMSL were used to conduct this research.
The work was done by Yuliang Cao, Lifen Xiao, Wei Wang, Daiwon Choi, Zimin Nie, Jianguo Yu, Laxmikant V. Saraf, Zhenguo Yang, and Jun Liu of Pacific Northwest National Laboratory.
Reference: Cao Y, L Xiao, W Wang, D Choi, Z Nie, J Yu, LV Saraf, Z Yang, and Jun Liu. 2011. "Reversible Sodium Ion Insertion in Single Crystalline Manganese Oxide Nanowires with Long Cycle Life." Advanced Materials. 23(28):3155-3160 DOI: 10.1002/adma.201100904.
---
Page 630 of 1002