Page 636 of 1002
Physcial Sciences Division
Staff Awards & Honors
May 2011
Jun Liu Selected to Lead Prestigious Materials Meeting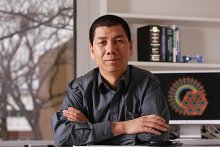 Jun Liu, Laboratory Fellow
Congratulations to Dr. Jun Liu of Pacific Northwest National Laboratory on being chosen to lead the 2012 Materials Research Society Spring Meeting. This meeting provides 5,000-plus people from around the world the opportunity to discover and discuss the latest developments in materials research. Scientists from different disciplines present more than 50 top-notch scientific symposia.
Liu was selected as one of the four meeting chairs for this event because of his reputation in materials research. He is known for his contribution to nanomaterials, self-assembly, catalysis, and large-scale energy storage research. At PNNL, Liu leads the Transformational Materials Science Initiative, which is elucidating the underlying materials phenomena for vehicular and grid-scale energy storage. His research has appeared in numerous journals, received patents, and earned him awards, including an R&D 100 Award for self-assembled nanoporous materials.
Liu joins materials luminaries Lara Estroff of Cornell University, Kornelius Nielsch of the University Hamburg, and Katzumi Wada of the University of Tokyo in leading this sizable and prestigious scientific conference. As the conference chairs, the foursome will select speakers, coordinate the exhibitors event, and generally ensure that the event presents outstanding research of the highest caliber.
---
Page 636 of 1002