Page 959 of 1002
Physcial Sciences Division
Staff Awards & Honors
September 2006
Hydrogen Storage Article by Daschbach, Dang and McGrail Graces Cover of Journal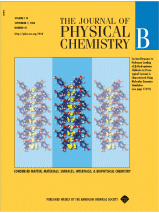 Congratulations to Pacific Northwest National Laboratory's John Daschbach, Liem Dang, Pete McGrail and their co-authors on having their research featured on the September 7, 2006, cover of The Journal of Physical Chemistry, Part B. Their article describes the molecular interactions inside a prototypical molecule for storing and safely releasing hydrogen, a prerequisite for using hydrogen as an energy source.
In the paper, titled "Molecular Mechanisms of Hydrogen-Loaded β-Hydroquinone Clathrate," the authors employed molecular dynamics simulation techniques and analyses to show how to load four hydrogen atoms inside a β-hydroquinone clathrate. A clathrate is a cage-like molecule that can lock up and release hydrogen or their atoms. Loading multiple hydrogen clusters into the clathrate surprised the researchers as previous calculations assumed the hydrogen clusters were simply too large to fit inside the molecule.
The results of this paper may lead others to design clathrates not based on carbon ring structures that may provide reversible hydrogen storage under mild conditions.
The article was written in collaboration with Professor Tsun-Mei Chang at the University of Wisconsin-Parkside, a former postdoctoral fellow at Pacific Northwest National Laboratory (PNNL), and L. Rene Corrales, a former scientist at PNNL.
The work was sponsored by New Energy and Industrial Technology Development Organization in Japan, Laboratory Directed Research and Development funds at PNNL, DOE's Office of Energy Efficiency and Renewable Energy, and DOE's Office of Basic Energy Sciences.
Congratulations again, team!
Citation: Daschbach, JL, TM Chang, LR Corrales, LX Dang, and P McGrail. 2006. "Molecular Mechanisms of Hydrogen-Loaded β-Hydroquinone Clathrate." The Journal of Physical Chemistry B 110(35):17291-17295.
---
Page 959 of 1002