Page 297 of 559
Biological Sciences Division
Research Highlights
March 2011
Unique Spinal Fluid Proteins Found in Chronic Fatigue, Lyme Disease Syndrome Patients
Results suggest both CFS and neurologic post-treatment Lyme disease syndrome involve central nervous system but are different illnesses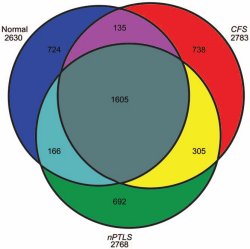 Of more than 2500 proteins found in the spinal fluid of volunteers, 724 were unique to healthy patients, 738 to chronic fatigue syndrome patients, and 692 to post lyme disease syndrome patients, differences between the illnesses that researchers can investigate further. Photo courtesy of Schutzer et al, PLoS ONE 2011.
Enlarge Image
Chronic fatigue syndrome knocks people down with a debilitating fatigue, but researchers have yet to identify an underlying cause. The difficulty in distinguishing CFS from nPTLS is a result of their shared features of fatigue and cognitive dysfunction. These shared features also create diagnostic dilemmas and impede research into understanding each individual syndrome.
Now, an international team of scientists examining the complement of proteins in spinal fluid comprehensively has found that CFS patients carry a subset of proteins unique to their spinal fluid, compared to nPTLS patients and healthy volunteers. Included in the subset are proteins implicated in Alzheimer's and Parkinson's diseases, supporting the idea that CFS has an underlying neurological cause.
The team was led by Dr. Steven Schutzer, University of Medicine and Dentistry of New Jersey-New Jersey Medical School, and Dr. Richard (Dick) D. Smith, Pacific Northwest National Laboratory. Their results appear in the Feb. 23 issue of PLoS ONE.
The results have been featured by news media including CBS News, the Associated Press, the Wall Street Journal, and US News & World Report.
See the entire PNNL News Release, the release from the University of Medicine and Dentistry of New Jersey, and the related research highlight.
Acknowledgments: Other PNNL team members include Thomas Angel, Tao Liu, Athena Schepmoes, Therese Clauss, Joshua Adkins, and David Camp II. The research is funded by the National Institute of Allergy and Infectious Diseases, National Institute on Drug Abuse, National Institute of Neurological Disorders and Stroke, the National Center for Research Resources, the Swedish Research Council, Uppsala Berzelii Technology Center for Neurodiagnostics, SciLifeLab-Uppsala, Time for Lyme, Lyme Disease Association, and the Tami Fund for support of portions of the research.
Key work was done at EMSL, a national scientific user facility sponsored by the U.S. Department of Energy (DOE) and located at PNNL.
References: Schutzer SE, Angel TE, Liu T, Schepmoes AA, Clauss TR, JN Adkins, DG Camp II, BK Holland, J Bergquist, PK Coyle, RD Smith, BA Fallon, and BH Natelson. 2011. "Distinct Cerebrospinal Fluid Proteomes Differentiate Post-Treatment Lyme Disease from Chronic Fatigue Syndrome." PLoS ONE 6(2):e17287. DOI: 10.1371/journal.pone.0017287
Schutzer SE, T Liu, BH Natelson, TE Angel, AA Schepmoes, SO Purvine, KK Hixson, MS Lipton, DG Camp II, PK Coyle, RD Smith, and J Bergquist. 2010. "Establishing the Proteome of Normal Human Cerebrospinal Fluid." PLoS ONE 5(6):e10980. DOI: 10.1371/journal.pone.0010980.
---
Page 297 of 559