Page 578 of 740
Atmospher Sci & Global Chg
Research Highlights
February 2011
Worldwide Sulfur Emissions Rose Between 2000-2005, After Decade of Decline
Shipping, China top emissions growth in new analysis of 150 years of emissions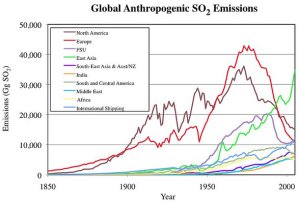 Manmade sulfur dioxide emissions by country show a decline by the historically large emitters, Europe and the U.S., but increases in growing economies through 2005.
Enlarge Image
A new analysis by researchers—including Steven J. Smith of the Joint Global Change Research Institute, a partnership between PNNL and the University of Maryland—shows sulfur emissions, after declining for a decade, rose again in 2000 due largely to international shipping and a growing Chinese economy. An accurate read on sulfur emissions will help researchers predict future changes in climate and determine current effects on the atmosphere, health, and environment.
Acknowledgments: This work was supported by the U.S. Department of Energy's Office of Science, Office of Biological and Environmental Programs and other funding agencies. The Joint Global Change Research Institute (JGCRI) is a unique partnership formed in 2001 between Pacific Northwest National Laboratory (PNNL) and the University of Maryland.
Reference: Smith SJ, J van Aardenne, Z Klimont, RJ Andres, A Volke, and S Delgado Arias. 2011. "Anthropogenic sulfur dioxide emissions: 1850-2005." Atmospheric Chemistry and Physics 11(3):1101-1116. DOI: 10.5194/acp-11-1101-2011.
Research Team: The research was done by Steven J. Smith, a senior scientist at PNNL's JGCRI; John van Aardenne of the European Environment Agency previously with the European Commission Joint Research Centre; Zbigniew Klimont of the International Institute for Applied Systems Analysis; Robert J. Andres of Oak Ridge National Laboratory, and JGCRI research assistants April Volke and Sabrina Delgado Arias.
For more information, see the PNNL news release.
---
Page 578 of 740