Page 305 of 559
Biological Sciences Division
Staff Awards & Honors
January 2011
Spinal Fluid Research Wins Gordon Battelle Prize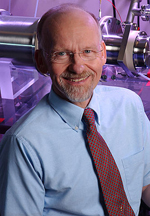 Dr. Richard Smith
Congratulations to a team led by Dr. Richard (Dick) D. Smith, Pacific Northwest National Laboratory, and Dr. Steven E. Schutzer, University of Medicine and Dentistry of New Jersey, that was among four recipients of the inaugural Gordon Battelle Prize for Scientific Discovery. These awards were established to celebrate and honor the breakthrough achievements of the laboratories managed by Battelle, while promoting Battelle's commitment to learning and education.
The team won for their discovery of thousands of proteins previously unknown in spinal fluid. Using integrated instrumentation resources at EMSL, a Department of Energy scientific user facility, the team applied immunoaffinity separations and high-sensitivity, high-resolution liquid chromatography-mass spectrometry to examine cerebrospinal fluid from healthy normal individuals and make specific comparisons to other subjects.
This research establishes a detailed reference spinal fluid proteome that will help researchers and clinicians determine the root causes of Alzheimer's, Parkinson's, and other neurological conditions, and could contribute to devising faster, more efficient diagnostic tests and treatments for diseases with neurological and psychiatric features.
Each award-winning team receives a $5,000 education grant to their school of choice (K-12 or higher education). The PNNL/UMDNJ team will donate their $5,000 to support Delta High School, a Science, Technology, Engineering, and Math (STEM) public school in Richland, Wash.
The award-winning research was supported by the National Institutes of Health, the National Center for Research Resources, the Swedish Research Council, and Uppsala Berzelii Technology Center for Neurodiagnostics. The team includes Tao Liu, Samuel Purvine, Tomas Angel, Kim Hixson, Athena Schepmoes, Mary Lipton, and David Camp II, PNNL; Benjamin Natelson, formerly of the University of Medicine and Dentistry of New Jersey; Patricia Coyle, State University of New York; Jonas Bergquis, Uppsala University in Sweden.
---
Page 305 of 559