Page 958 of 1002
Physcial Sciences Division
Staff Awards & Honors
September 2006
Jean Futrell Receives American Chemical Society Award for Mass Spectrometry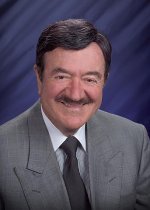 Jean Futrell
Congratulations to Jean Futrell on being selected the 2007 recipient of the American Chemical Society's Frank H. Field and Joe L. Franklin Award for Outstanding Achievement in Mass Spectrometry. The award will be presented at the 2007 American Chemical Society meeting in Chicago.
Jean was selected for his fundamental research work on the theory and practice of mass spectroscopy. His work often focuses on developing or modifying instrumentation for specialized research purposes, including high-pressure and chemical-ionization mass spectrometers. His invention of tandem mass spectrometry is deployed in nearly every commercial mass spectrometer. His research has answered many important fundamental questions about mass spectrometry, including detailed mechanisms of ionization, excitation, and dissociation of ions.
His recent work has addressed complex molecular ions, especially peptides, relevant to PNNL's proteomics program. His research is sponsored by the Chemical & Materials Sciences Division of DOE's Basic Energy Sciences program.
Based on this and other research, Jean has authored or co-authored nearly 300 refereed journal articles and invited reviews. In 2000, he received the Erwin Schrõdinger Gold Medal from the International Symposium on Atomic and Surface Physics for his research in ion-molecular reaction dynamics and mass spectrometry.
Congratulations again, Jean!
---
Page 958 of 1002