Page 674 of 1002
Physcial Sciences Division
Staff Awards & Honors
January 2011
Greg Schenter Named as AAAS Fellow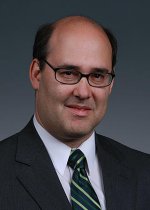 Greg Schenter
Congratulations to Dr. Greg Schenter for being named a fellow of the American Association for the Advancement of Science in the Chemistry Section. Schenter develops mathematical models to advance how scientists simulate molecular behavior. He calculates how small, light molecules and atoms move and react in solids and in solution. To do this, he considers the effects of quantum mechanics, a branch of physics. This research is helping build better batteries and alternative fuels. Schenter also developed a theory of how droplets form, or nucleate, that improved on previous theories. This is changing the way scientists see cloud formation, fuel cells, and more.
Schenter is a PNNL Laboratory Fellow, as well as a fellow of the American Physical Society. He has been a mentor to many scientists and students at the postdoctoral, doctoral, graduate and undergraduate levels.
"One of Greg's greatest strengths is his ability to make firm connections between computational work and experiments on condensed phase systems such as liquids," said Dr. Bruce Garrett, Chemical & Materials Sciences Division manager. "He has gained an international reputation for developing and applying methods that include the important physics, such as quantum mechanics, into simulations, allowing reliable comparisons with experiments."
Schenter is one of six scientists from the Department of Energy's Pacific Northwest National Laboratory who have been named this year's fellows of the AAAS for their exceptional efforts to advance science and apply it to real-world problems. He joins a total of 46 PNNL researchers who have been named AAAS fellows.
The American Association for the Advancement of Science is an international non-profit organization dedicated to advancing science around the world. The association will honor its new fellows at its annual meeting in Washington, D.C., in February 2011. The complete list of 2010 AAAS Fellows is available online.
---
Page 674 of 1002