Page 585 of 740
Atmospher Sci & Global Chg
Staff Awards & Honors
December 2010
L. Ruby Leung to Serve on NRC Study Committee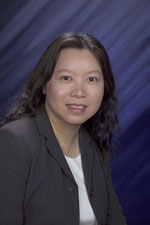 L. Ruby Leung
Dr. L. Ruby Leung, a Pacific Northwest National Laboratory research scientist, has been selected to serve as a member of the National Research Council's "A National Strategy for Advancing Climate Modeling" study committee. The committee is selected by the National Academy of Sciences with oversight by the Board on Atmospheric Sciences and Climate. The study is designed to develop a strategy for improving the nation's capability to accurately simulate climate and related Earth system changes. As one of the 15 committee members, a number of Leung's duties will include:
Discuss the status and future of climate modeling over the next decade and beyond.
Assist in the development of a strategic approach for identifying the priority observations, research, and decision support activities that would lead to the greatest improvements in the understanding and ability to monitor, model, and respond to climate change.
Provide recommendations for developing a comprehensive and integrated national strategy for climate modeling over the next decade and beyond.
Leung is widely considered one of the top few researchers in the United States and the world in regional climate modeling, and is internationally recognized for her research on regional climate change and the hydrological cycle. She led important efforts in defining research priorities and needs in regional climate modeling, and coordinated community efforts to develop capabilities in community models to simulate regional climate. Her research crosses scientific disciplines to advance the state-of-the art in predicting climate change and its regional impacts.
As part of the National Academies, the National Research Council advises the nation on scientific and technical matters. They bring together committees of experts in all areas of science and technology. These experts address critical national issues and give advice to the federal government and the public.
---
Page 585 of 740