Page 656 of 970
Physical Sciences
Research Highlights
November 2010
The Chemistry of Carbon Sequestration
Geochemical expert discusses turning carbon dioxide into minerals, need for catalysts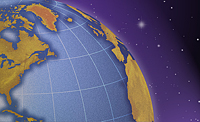 A scientific approach to capturing and storing carbon dioxide was discussed at the recent Frontiers in Geochemistry Seminar.
Enlarge Image
Capturing and storing carbon dioxide emitted by cars, cement plants, and other sources is a global problem and one that has taken over much of Dr. Eric Oelkers' career. A well-respected geochemist whose articles have garnered more than 4000 citations, Oelkers shared his insights on carbon sequestration at the Frontiers in Geochemistry Seminar Series on October 28, 2010. This series provides a venue for experts to share novel ideas and scientific advances with staff at Pacific Northwest National Laboratory.
Oelkers and his team at the National Center of Scientific Research in France are investigating the kinetics or speed of the reaction that incorporates the greenhouse gas carbon dioxide into minerals, where the carbon can reside for tens of millions of years. In nature, carbon dioxide dissolved in water is mixed with metal cations from dissolved silicate minerals. The reaction between the two forms solid metal carbonates. With some metal cations, such as ubiquitous magnesium, this reaction takes an unusually long time to occur. Given the abundance of magnesium in the oceans, where all excess atmospheric carbon dioxide could in principle be combined into stable minerals, Oelkers and his team wanted to speed it up.
Subsequent laboratory studies by Oelkers and his team showed that few carbon-containing minerals will form at relatively low temperatures, around that of boiling water. Therefore, the key may be in identifying catalysts that encourage the formation of metal carbonates at lower temperatures.
"He's looking at things very differently from a lot of other scientists," said Dr. Chris Thompson, who is working on carbon sequestration at PNNL. "He has a very different approach from what we're doing."
Bio: A graduate of the University of California at Berkeley, Dr. Eric Oelkers is well respected in the geochemical community. He is a co-author of the software package SUPCRT92. This software calculates the thermodynamic properties of minerals, gases, aqueous species, and reactions over a range of temperatures and pressures. Oelkers is also known for his work on the journals Chemical Geology, Geochimica et Cosmochimica Acta, and Elements. He is a Research Director at the National Center of Scientific Research in Toulouse, France. He is also Chair of the Center's Experimental Geochemistry and Biogeochemistry Department.
---
Page 656 of 970