Page 319 of 559
Biological Sciences
Research Highlights
November 2010
Monkeypox Study Reveals Clues to Virus's Role in Lung Disease
Findings might help better understand bronchitis, emphysema, other lung disease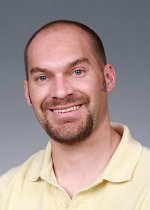 Joe Brown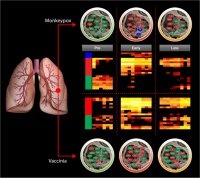 Enlarge Image
Distinct protein expressions were identified by high-resolution mass spectrometry in macaque monkey lung fluid over the course of either monkeypox or vaccinia viral infection. The blue, red, and green vertical bars indicate viral, increased macaque, and decreased macaque proteins, respectively, during viral infection. "Pre" represents protein expression observed in healthy macaque lung fluid prior to viral infection. "Early" viral infection is characterized by increased levels of inflammatory proteins (red) and decreased levels of structural and metabolic proteins (green). Viral proteins begin to appear during the "Early" time points, but only during the monkeypox viral infection, as expected because this virus is more virulent than vaccinia. "Late" in the viral infection, the viral proteins drop below the level of detection as the monkey recovers from the viral infection, and the host (macaque) proteins begin to return to "healthy" levels.
A study by Pacific Northwest National Laboratory and Oregon Health & Science University scientists is providing better understanding of the mechanisms of monkeypox virus. Using proteomics capabilities at EMSL, a Department of Energy scientific user facility at PNNL, scientists have characterized the global proteome response in the lung fluid from macaque monkeys at OHSU's Oregon National Primate Research Center in Beaverton.
Their results, which appeared in the online version of Molecular & Cellular Proteomics August 24, suggest possible new ways to treat lung diseases in humans.
More details about the research are available in the PNNL news release "Deadly monkeypox virus might cause disease by breaking down lung tissue."
Acknowledgments: The study was funded by the National Institute of Allergy and Infectious Diseases and the National Center for Research Resources, both part of the National Institutes of Health; the Department of Defense; and Battelle. Some of the work was performed at EMSL, a Department of Energy scientific user facility located at PNNL.
The research team included lead author Joseph Brown, PNNL; senior author Richard D. (Dick) Smith, Daniel Lopez-Ferrer, Heather Brewer, Theresa Clauss, Nathan Manes, and Joshua Adkins, all PNNL; and Scott Wong, Ryan Estep, Megan O'Connor, and Helen Li, OHSU.
Reference: Brown JN, Estep RD, Lopez-Ferrer D, Brewer HM, Clauss TR, Manes NP, O'Connor M, Li H, Adkins JN, Wong SW, Smith RD. 2010. "Characterization of Macaque Pulmonary Fluid Proteome during Monkeypox Infection: Dynamics of Host Response." Molecular & Cellular Proteomics, 9, 2760-2771. doi: 10.1074/mcp.M110.001875
---
Page 319 of 559