Page 695 of 1002
Physcial Sciences Division
Staff Awards & Honors
October 2010
Liem Dang Appointed to Journal of Physical Chemistry Advisory Board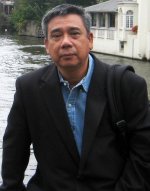 Liem Dang
Congratulations to Dr. Liem Dang of Pacific Northwest National Laboratory, who recently accepted an invitation to join the advisory board of the Journal of Physical Chemistry. As a member of this international board, Dang will consult with the board on questions about the journal's policy and future while also serving as referee for manuscripts submitted to the journal.
Dang was chosen because of his expertise in designing and implementing simulations to study molecular properties and processes at aqueous interfaces. His research focuses on the transport of ions and molecules between interfaces of hydrogen-bonded liquids. He has authored or co-authored more than 100 peer-reviewed publications and serves as adjunct professor at University of Queensland, Australia.
Founded by the American Chemical Society in 1896, the Journal of Physical Chemistry was divided in 1997 into three journals because of the growth in the field. The Journal of Physical Chemistry A covers experimental and theoretical research on the structure, dynamics, and spectroscopy of molecules and clusters. The Journal of Physical Chemistry B focuses on material chemistry, thermodynamics, and related fields. It is in the top 20 journals of the physical chemistry field. The newest journal, Journal of Physical Chemistry C, focuses on nanoscience. Each journal is published weekly.
---
Page 695 of 1002