Page 324 of 559
Biological Sciences Division
Staff Awards & Honors
October 2010
Dick Smith Elected to Second Term on HUPO Board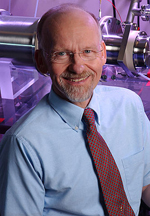 Dr. Richard Smith
Congratulations to Dick Smith on being elected to a second 3-year term on the Human Proteome Organization (HUPO) board of directors following the HUPO World Congress in Sydney, Australia, in September. HUPO is an international scientific organization representing and promoting proteomics through international cooperation and collaborations by fostering the development of new technologies, techniques, and training.
Dr. Smith, a Battelle Fellow at Pacific Northwest National Laboratory, has extensive experience in developing new approaches and platforms for proteomics, as well as in the broad applications of proteomics in biological research. He is Director of the National Institutes of Health Biomedical Technology Resource Center for Integrative Biology and the U.S. Department of Energy High Throughput Proteomics Facility at EMSL, a Department of Energy scientific user facility located at PNNL.
Dr. Smith has presented more than 350 invited or plenary lectures at national and international scientific meetings, and is the author or co-author of more than 750 publications. He holds 38 patents and has been the recipient of ten R&D 100 Awards, the 2003 American Chemical Society Award for Analytical Chemistry, and the 2009 HUPO Discovery Award in Proteomics Sciences.
---
Page 324 of 559