Page 326 of 559
Biological Sciences Division
Staff Awards & Honors
September 2010
Dick Smith up for R&D Magazine's Scientist of the Year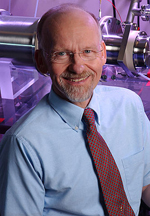 Dr. Richard Smith
PNNL's Dick Smith is a nominee for R&D Magazine's Scientist of the Year. His achievements have earned him a spot among the candidates, and now he needs your vote to bring further recognition to his impressive contributions.
Smith, who previously has won ten R&D 100 Awards for his research, is being recognized for his accomplishments in pioneering the development of proteomics tools. Scientists use these instruments to study the array of proteins and related molecules that make up much of human blood and tissues. He also was named among Scientific American's 50 list of outstanding leaders.
His 35-year career at PNNL has produced 38 patents, nearly 800 publications, and numerous distinguished awards—including ten R&D 100 awards, more than almost any other individual in the R&D 100 awards program's history. Smith is a true pioneer in the development of instrumentation for mass spectrometry. His latest venture, along with many of his colleagues, is development of a "next-generation" proteomics measurement platform.
Please see Smith's complete bio for details on his research and accomplishments.
Voting is now open for the 2010 Scientist of the Year. Please vote only once per category. Voting ends on October 15.
---
Page 326 of 559