Page 327 of 559
Biological Sciences
Research Highlights
September 2010
New Tool Developed to Better Isolate Neutrophils
Better understanding and diagnoses of immune system injury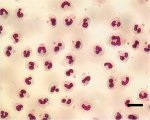 Fully segmented neutrophils and band forms captured from burn patient 10 days post-injury.
Enlarge Image
Results: Pacific Northwest National Laboratory scientists are part of a team led by Massachusetts General Hospital that has developed a new microfluidic tool for quickly and accurately isolating neutrophils—the most abundant type of white blood cell—from small blood samples. This accomplishment could provide information essential to better understanding the immune system's response to traumatic injury. The system, described in a Nature Medicine paper published online August 29, also can be adapted to isolate almost any type of cell.
"Neutrophils are currently garnering a lot of interest from researchers and clinicians, but collecting and processing them has been a real challenge," says Dr. Kenneth Kotz of the MGH Center for Engineering in Medicine, lead author of the study. "This tool will allow a new range of studies and diagnostics based on cell-specific genomic and proteomic signatures."
The PNNL team designed proteomic experiments, performed quantitative proteomics and data analyses and contributed to the biological interpretation of the obtained data. More information about the research is available at the following links:
Acknowledgments: The research was supported by the National Institutes of Health. The proteomics work was performed in EMSL, a U.S. Department of Energy Office of Biological and Environmental Research national scientific user facility at PNNL. The team included scientists from Stanford Genome Technology Center, the University of Rochester School of Medicine, the University of Florida College of Medicine, and Washington University of St. Louis. The PNNL scientific team included Wei-Jun Qian, Brianne Petritis, David Camp, and Richard (Dick) Smith.
Reference:
Kotz KT, W Xiao, C Miller-Graziano, W Qian, A Russom, EA Warner, LL Moldawer, A De, PE Bankey, BO Petritis, DG Camp, II, AE Rosenbach, J Goverman, SP Fagan, BH Brownstein, D Irimia, W Xu, J Wilhelmy, M Mindrinos, RD Smith, RW Davis, RG Tompkins, and M Toner. 2010. "Clinical Microfluidics for Neutrophil Genomics and Proteomics." Nature Medicine 16(9):1042-1048. doi:10.1038/nm.2205
---
Page 327 of 559