Page 719 of 1002
Physcial Sciences Division
Staff Awards & Honors
July 2010
Daniel DuBois Selected as Laboratory Fellow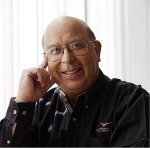 Dan Dubois
Dr. Daniel DuBois was chosen as a Pacific Northwest National Laboratory Fellow, the highest rank our science and engineering staff can attain. DuBois is an internationally recognized expert in metal inorganic catalysts for building and breaking hydrogen. Through careful experiments and theoretical calculations, he has forged a molecular-level understanding of the role of pendant amines in molecular electrocatalysis. He has shown that these dangling nitrogen-based clusters accelerate reaction rates for a number of important energy transformation reactions. His work has led to catalysts that drive hydrogen production at rates comparable to those found in nature.
DuBois has written or co-written 60-plus thorough, thoughtful articles. Others have cited these articles 1,499 times since 1987. His most popular article, a 2001 paper on catalysis and carbon management, has been referenced 287 times. He is a popular speaker, giving invited talks at major universities and conferences. He has served on numerous review panels, including the Helmholtz Association in Germany and the Institute of Molecular Science in Japan.
In addition, DuBois is an outstanding project manager and an inspiring mentor. His research and proposals have formed the basis for new multi-million dollar projects at PNNL. With his early career scientists, he is interested in developing their understanding of the underlying science. Also, he helps staff appreciate how experiments and day-to-day research affect broader issues, such as U.S. dependence on imported oil.
DuBois currently serves as the Deputy Director of the Center for Molecular Electrocatalysis.
---
Page 719 of 1002