Page 342 of 559
Biological Sciences Division
Staff Awards & Honors
May 2010
Dick Smith Named One of Innovation magazine's "Best and the Brightest"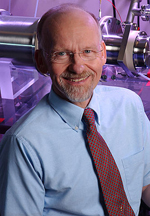 Dr. Richard Smith
Congratulations to Dr. Richard D. (Dick) Smith on being named one of 12 Best and the Brightest Innovators in the Energy Labs in the April/May 2010 issue of Innovation, a journal of technology commercialization. The article "Dick Smith: A Most Prolific Inventor" can be viewed online or downloaded as a PDF.
Smith, chief scientist and director of proteomics at Pacific Northwest National Laboratory, holds 37 U.S. patents, nine of which have resulted in R&D 100 Awards for top high technology products. Among his numerous other awards are the recent 2010 Eastern Analytical Symposium Award for Outstanding Achievements in the Fields of Analytical Chemistry, the 2009 HUPO (Human Proteome Organization) Discovery Award in Proteomics Sciences, and the 2003 Award in Analytical Chemistry from the American Chemical Society.
---
Page 342 of 559