Page 609 of 740
Atmospheric Sciences & Global Change
Research Highlights
May 2010
New Insights Show Promise for Emissions Capture, Storage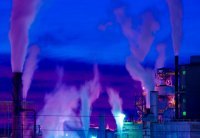 Scientists from Pacific Northwest National Laboratory discussed carbon capture in the U.S. and China at the Ninth Annual Conference on Carbon Capture and Sequestration. Credit: Scott Butner
Enlarge Image
Technology for capturing carbon dioxide and safely storing it underground rather than releasing it to the atmosphere holds significant promise in the United States and abroad, according to researchers at the Ninth Annual Conference on Carbon Capture and Sequestration held May 10-13, 2010, James Dooley from the Joint Global Change Research Institute discussed results from two studies he's led at the institute. The first presentation assessed where and when carbon capture and storage (CCS) technology might be deployed and at what cost. This talk was given by his colleague Casie Davidson from Pacific Northwest National Laboratory (PNNL). The second study focused on the potential for CCS in China. This talk was given by PNNL's Robert Dahowski.
Geospatial and temporal analysis of CCS deployment in the United States under selected climate change mitigation scenarios
Tuesday, May 11, 2010; 2:30 - 2:50 p.m.; Room 1-A (David L. Lawrence Convention Center)
Using state-of-the-art, in-house modeling tools, PNNL is now able to paint what could be the most comprehensive picture to date of where, when, and at what cost society might deploy carbon capture and storage within the United States in response to potential climate policy. PNNL scientist Casie Davidson discussed the deployment of CCS technology under several scenarios, based in part on climate legislation currently being considered. She discussed improvements to this work's underlying assumptions and costing algorithm, and presented results, including an animation showing potential deployment of CCS in the United States over time.
Regional Opportunities for Carbon Dioxide Capture and Storage in China: Highlights from Final Results
Wednesday, May 12, 2010; 4:05 p.m.- 4:25 p.m.; Room 4-A (David L. Lawrence Convention Center)
The carbon storage potential in China may contribute significantly to climate change mitigation efforts. PNNL research engineer Robert Dahowski presented final results from a collaboration with China's Institute of Rock and Soil Mechanics that show China has strong potential for cost-effective application of CCS technologies. In the study, the authors determined that in most areas of China, many candidate emission burial sites are close to where the emissions are produced. This means storing carbon emissions in China could be more geographically and economically feasible than previously realized and assist in reducing emissions from China's carbon-intensive economy.
---
Page 609 of 740