Page 608 of 740
Atmospher Sci & Global Chg
Staff Awards & Honors
May 2010
Steven Smith Served Key Role in National Academies Workshop on Climate Change Mitigation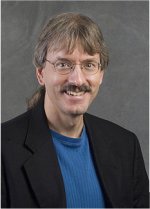 Steven Smith
Congratulations to Dr. Steven Smith of the Joint Global Change Research Institute (JGCRI) on the success of the National Academy of Sciences' Modeling the Economics of Greenhouse Gas Mitigation Workshop. As a member of the event's planning committee, Smith and his colleagues focused the 2-day workshop on the economics of carbon offsets, bottom-up supply curves, technological learning curves, and long-term scenarios. Around these topics, the committee brought together leading researchers, including Dr. Jae Edmonds also from JGCRI. The workshop was attended by members of the policy and modeling communities.
Smith chaired the panel session titled "Storylines, Scenarios, and the Limits of Long-Term Socio-Techno-Economic Forecasting." This panel was designed to start discussions on creating and using new socio-economic scenarios, which are the starting point for analyzing mitigation costs. Dr. Richard Moss, also from JGCRI, spoke at this session, discussing the new community-based process for developing and using future scenarios for emissions and climate change.
Held April 15-16, 2010, at the National Academies of Sciences Headquarters in Washington, DC, this workshop was requested by the Department of Energy to better understand the models used to estimate the economic impacts of reducing greenhouse gas emissions. This is the second National Academies of Sciences workshop DOE has requested on this topic.
---
Page 608 of 740