Page 730 of 1002
Physcial Sciences Division
Staff Awards & Honors
May 2010
Dehong Hu Selected as Senior Editor for International Journal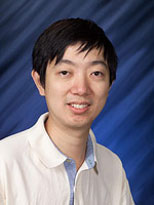 Dehong Hu
Congratulations to Dr. Dehong Hu at Pacific Northwest National Laboratory on being chosen as a senior editor for Nano Reviews, a new, international scientific journal. Released in February 2010 by Co-Action Publishing, the publication organizes the deluge of nanoscience, nanotechnology, nanobiotechnology, and single molecule studies, providing researchers with the information they need. The journal is supported by five senior editors and an advisory board.
As a senior editor of a newly launched journal, Hu's priority is to select and invite high-profile scientists to write articles for the journal. In addition, Hu will coordinate peer reviews on submitted manuscripts.
The only representative from a national laboratory, Hu was selected because of his expertise in single-molecule spectroscopy research. Recently, Hu led the installation of two new microscopes at the Department of Energy's EMSL, a national scientific user facility. These microscopes will aid Hu and other scientists in studying interactions and fate of nanomaterials within living cells.
---
Page 730 of 1002