Page 615 of 740
Atmospheric Sciences & Global Change
Research Highlights
February 2010
PNNL Chief Scientist Addresses Congress on Geoengineering
Dr. Phil Rasch joins other panelists discussing the potential benefits, risks and costs of geoengineering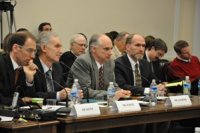 Dr. Phil Rasch (second from left)
Results: Dr. Phil Rasch gave testimony on climate change geoengineering to the U.S. House of Representative Committee on Science and Technology in Washington, D.C., on February 4, 2010. He was asked to address the Subcommittee on Energy and Environment on Solar Radiation Management during a hearing entitled "Geoengineering II: The Scientific Basis and Engineering Challenges."
Rasch provided a baseline for discussion by explaining geoengineering research to date. Then, he discussed radiative forcing using stratospheric sulfate aerosol or marine cloud whitening, looking at elements of such as potential research options, how to deploy them, the potential positive and negative impacts of deployment, and how long the impacts might last.
Why it matters: The global temperature of the planet is determined by the balance between the energy absorbed from sunlight and the energy leaving the atmosphere as heat. The idea behind solar radiation management is finding a way to make the planet a little more reflective to sunlight, then less would be absorbed by the Earth, and the planet will be slightly cooler than it would otherwise be. So, solar radiation management is designed to cancel some of the warming that we expect from increasing greenhouse gas concentrations.
Hear a webcast of the testimony from Rasch and the other panelists.
---
Page 615 of 740