Page 605 of 729
Atmospheric Sciences & Global Change
Research Highlights
February 2010
Cracking the Codes of Building Energy Efficiency
U.S. and China launch collaboration on building energy codes compliance and training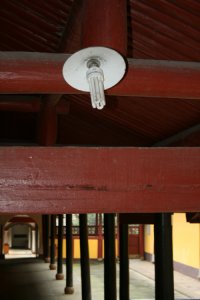 A compact fluorescent lamp (CFL) lights an ancient temple outside of Ningbo, China. Compact fluorescents are an example of a technology used to increase building energy efficiency. (Photo: M. Evans, PNNL)
Enlarge Image
Results: Scientists from Pacific Northwest National Laboratory, along with building efficiency experts in China, are working to analyze the building energy codes and their enforcement systems in the U.S. and China. This work was highlighted in the recent bilateral Energy Efficiency Action Plan announced by President Barack Obama and President Hu Jintao of China, which notes the countries' plans to promote greener buildings through energy efficient building codes, training building inspectors and developing advanced energy rating systems. To date, PNNL scientists have worked with more than 140 implementation and enforcement professionals in China to develop building energy code and efficiency strategies.
Why it matters: The United States and China are the world's largest energy producers, energy consumers, and greenhouse gas emitters. Working together on research and approaches to improve energy efficiency in buildings, the United States and China can assure that new construction minimizes carbon-based energy use and the carbon footprint of both nations. Building energy codes help ensure that new buildings employ cost-effective and energy efficient technologies.
Method: PNNL scientists are working with researchers in China to analyze and improve energy code enforcement systems, and train code officials in China. PNNL researchers at Joint Global Change Research Institute, a partnership of PNNL and the University of Maryland, prepared seven individual country reports and a comparative report looking across the APP countries. PNNL's energy code experts, who are part of the U.S. Department of Energy's Building Energy Codes Program (BECP), provided U.S. energy codes experience to collaborate with the Beijing Energy Efficiency Center (BECon) and the China Academy of Building Research (CABR) in analyzing building energy codes in the Asia-Pacific Partnership on Clean Development & Climate (APP) countries. This collaborative process and expertise offered policy makers and code experts with a menu of options on code requirements and implementation systems.
PNNL experts performed a qualitative analysis of a range of energy code factors such as different code implementation tools, the extent of coverage of the codes, and items included in the codes. They employed a quantitative analysis on the prescriptive energy code requirements—such as minimum R-factors for windows, or minimum required mechanical efficiencies—for different building components. Energy code experts in both countries then met for several events held in Beijing and the smaller cities of Ningbo and Changchun. In Beijing, government officials, researchers, and code experts from around the Asia-Pacific region shared strategies for improving energy code implementation in building design and construction. In Ningbo and Changchun, PNNL and scientists from CABR led inspectors, government officials, and training groups in seminars on the training, compliance, and enforcement of energy codes. The workshops were hands-on, covering specific strategies for code implementation and enforcement.
Based on this work and the input of CABR researchers, the team is now designing detailed plans to provide training and information to strengthen code implementation in China. The training program for building designers and code inspectors will also be disseminated and replicated in other parts of China.
What's next: Continued collaboration between U.S. and Chinese energy code experts will focus on making training and compliance materials more accessible for building designers and code enforcement officials in more rural areas of China. The collaboration will continue to explore new tools and approaches to aid with compliance of increasingly rigorous codes.
Acknowledgments: The Pacific Northwest National Laboratory is transforming the nation's ability to predict climate change and its impacts. The Joint Global Change Research Institute is a partnership of PNNL and the University of Maryland. The China Academy of Building Research is the largest building research institute in China. The Asia-Pacific Partnership on Clean Development & Climate is an international partnership of Australia, Canada, China, India, Japan, Rep. of Korea, and the United States to meet goals for energy security, air pollution reduction, and climate change.
Sponsors: Funding was provided by the U.S. Department of Energy, Office of Energy Efficiency & Renewable Energy, and the U.S. Department of State.
Research team: Meredydd Evans and Dr. Bin Shui of Pacific Northwest National Laboratory, at the Joint Global Change Research Institute; and Mark Halverson of Pacific Northwest National Laboratory, Commercial R&D Element Manager for the Building Energy Codes program.
References: Evans M, B Shui, and A Delgado. September 2009. Shaping the Energy Efficiency in New Buildings: A Comparison of Building Energy Codes in the Asia-Pacific Region, PNNL-122267; US-China Clean Energy Announcements, U.S. Department of Energy press release accessed November 17, 2009.
---
Page 605 of 729